By MOHI on Sep 21, 2020 10:00:00 AM
Considering a virtual mission trip? This is the year to try it out!
The global pandemic has definitely changed the landscape of mission trips in 2020, but that doesn't mean you can't make a difference for people around the world. Whether you're looking for new ideas, or simply need a few suggestions for how you might take your mission efforts to the online space, this article will get you started.
Going Virtual with Mission Trips

Due to the disruptions caused by the Global Pandemic, many organizations were forced to cancel their 2020 mission trips. While travel bans and restrictions have been lifted in many countries, there are still many challenges, and the rest of the year remains virtual for nearly every organization, including MOHI.
Virtual mission trips, or virtual mission efforts, provide a way to keep serving alongside one another. While we'd prefer to have boots on the ground, we are fortunate to live in a time where technology makes this possible when we can't connect in person. With just a smartphone, computer, or tablet, you can make a difference and rally others around you to have Kingdom Impact.
7 Ways to Engage in Virtual Mission Trips
1. Sponsor a Child
Sponsoring a child, or a number of children, is a great way to make a difference this year. Due to the pandemic, these children and their families are facing additional challenges, which your sponsorship can help address. Additionally, this one-to-one mission effort puts you in direct connection with someone who needs your help (a key part of mission work!).
To leverage this as a virtual mission effort, you may consider rallying your small group, church family, or immediate family to sponsor several children and share updates with each other about the experience.




However, While there is obvious value in providing physical support to a child, it can also change their life when they have someone who cheers them on, wanting them to grow and succeed—and believe they can! Try not to make this a one-time commitment thing like a trip. We see that children benefit most from building a relationship with their sponsor, who can also provide mental support or guidance in their spiritual growth – so think about being in it for the long-term nature of the sponsorship.

You can even write to your sponsored child. While mail service is not taking place in Kenya, we've created an opportunity to have sponsors email their sponsored child and our team will print out the message and deliver it to the child's home.

Hope delivered – that's definitely a mission worth getting involved in!
2. Share Your Past Mission Experiences
While mission trips in person seem much larger than social media, it's the spreading of the message that counts right now. If you've been on a mission trip with MOHI, or another organization, share those memories on social media. We are looking forward to the day that we can once again travel in person, and sharing your stories of trips to Kenya and meeting the children will likely ignite a fire in another sponsor's heart.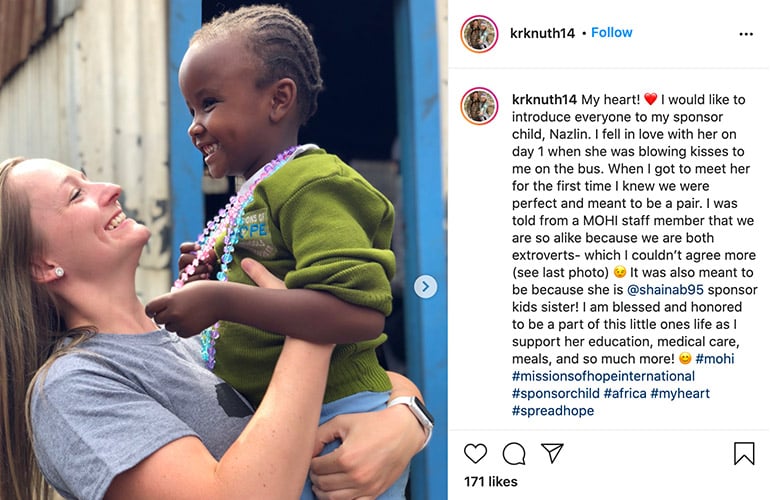 This also helps MOHI spread the word through human networks – which helps our resources extend farther, since social media platforms favor sharing and commenting as a means of showing the content to more people!
3. Share Mission Content Daily for a Specific Period of Time
Mission trips are usually a specific number of days – 7 for example. To make this virtual, find 7 pieces of content that you'd like to share online and share consistently for 7 days!
There's no shortage of great content to share, which makes this one easy. MOHI team pours a significant amount of time and resources into making sure that our sponsors, supporters, and followers know the way God is working in our families' lives.
From the sharing of MOHI videos on Facebook and YouTube, to sharing the stories and updates from our newsfeeds, you can help share the good news of God's providence.


Here are a few stories that you may find helpful in doing this:
4. Engage Your Family with Mission Resources
Whether you're a parent working to keep your children active in their faith during the pandemic, or a church leader working to share more digital content with your community, let these digital resources help make it a more engaging family affair!

5. Give Financially
Regardless of virtual or in-person missions, you can always make a difference with a gift or donation of any amount. Because of the unique circumstances of 2020, we do have specific needs that must be fulfilled in order for schools to reopen.
We're excited to share that MOHI and MOHI supporters quickly responded to the need, and since April we have given OVER 25,000+ food baskets to the families we serve across 25 centers in Kenya. We give glory to God!
These needs continue to grow, however, and we need your help – so consider addressing this as part of your virtual mission efforts!
6. Pray
The Bible calls us to pray. Philippians 4:6 says, "Do not be anxious about anything, but in every situation, by prayer and petition, with thanksgiving, present your requests to God."
We need daily prayer warriors!
Whether that's your small group, your church family, your neighborhood, or your daily mission endeavor, consider joining in the prayer chain to lift up the needs of MOHI and thank God for his providence, guidance, and protection.
7. Get Your Church Involved in Virtual Missions
While some churches in the US have re-opened to in-person worship, many congregations are still balancing virtual and in-person services and activities. A virtual mission effort may be a great opportunity to work together, select a mission/cause, and make a bigger impact than you could by yourself.
For example, MOHI had one church that stepped in at the start of the pandemic and donated a large sum of money to cover all of the food baskets for families in one particular school. Another church saw that we were sewing facemasks, so they stepped in and purchased several sewing machines to help with the production of the masks.
Here are a couple of ways your church could get involved virtually:

Whew! There's a lot you can do – if you have additional ideas, please let us know!
To wrap this on a positive note, we ARE booking teams for mission trips for 2021. We're approaching this slow and steady, so if your family or church is interested in traveling to Kenya to help in person next year, please contact us at visit@mohiafrica.org to find out more information.
Thank you for all of your support of MOHI – and we look forward to the day we can connect in person once again!