Free Children's Bible Lessons and Activities for Gratitude
By
MOHI
on May 15, 2020 4:11:00 PM
We receive gifts from God every day, in every moment of our lives. It's simply an expression of how much He love us!
Part of expressing our love for God in return involves giving Him thanks. Not a day should go by where we don't thank God for our blessings and for the hope a new day brings.
Is gratitude a part of your family's daily worship and prayer?
Show your family the importance of having and expressing gratitude with these creative free children's Bible lessons and activities.
Whether you're looking for children's bible lessons and activities for a Sunday morning, or to utilize with your family each day at home, these lessons are sure to engage young Jesus followers.
In each lesson, you'll find a verse, an activity, and a short prayer. Consider starting your day with a discussion of the scripture and then ending it with the fun prayer of thanks!
Gratitude Lesson & Activity 1
Thank Him for Everything
VERSE
136 Give thanks to the LORD, for he is good,
For his steadfast love endures forever. — Psalm 136:1
ACTIVITY
M&Ms of Gratitude
This activity will help your family to learn to thank God for all His blessings — both big and small.
What you need:
A bag of M&Ms (or other colored candy
A paper bag
Color key (see below)
Tape or glue
Instructions:
Fill your paper bag with candies and tape or glue your color key to the front. Throughout your day have your children choose a piece of candy from the bag.

After they've done so, have them tell you what they are thankful for according to the color category of the candy they pulled from the bag. For example, if they pull a red candy they might say "I am thankful for grandma because she helps me bake cookies when I visit."
Make sure to take a moment to discuss why we should thank God for these things after they've given you an answer. You can also ask them what it might be like to live without their blessings and have them consider sharing their gifts with others.
Color Key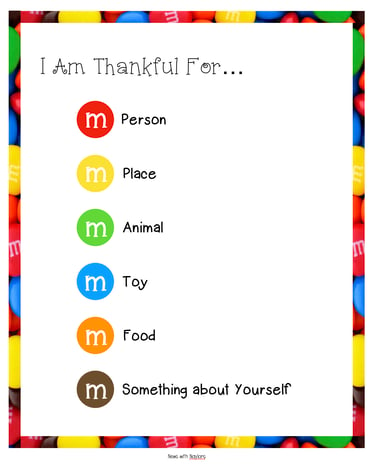 PRAYER
Dear God,
I'm thankful for all You give:
For food, for love, a place to live.
I thank You for my family too
And I want You to know
That I love You.

Amen
Gratitude Lesson & Activity 2
Thank Him Everywhere
VERSE
So then, just as you received Christ Jesus as Lord, continue to live in Him, rooted and built up in him and established in the faith, just as you were taught, abounding in thanksgiving. — Colossians 2:6-7
ACTIVITY
Growing Thanks
This sensory table activity is great for even the littlest members of your family.

What you need:
Dry beans
Fake flowers
Scoops & spoons
Flower pots or cups
A large plastic tub
Instructions:
Fill the large plastic tub with dry beans and separate your fake flowers into single strands. Use the scoops and spoons to fill your pots or cups with beans and force the stems of the flowers down into the beans.

As you do so, discuss with your family the things you are thankful for. Talk about how God plants the seed of our faith and helps us grow it everywhere — both inside ourselves and outward by giving to others. Remind your children that we should always thank him for the lessons he has given us.

These flowers make great arrangements to use as centerpieces for family meals or to decorate your living space. Or, you can disassemble and put them aside to rebuild and revisit the lesson whenever you wish.
PRAYER
Dear God,

Thank You, God, for sun and rain
That makes all things grow.
Thank you for the farmers
That work to reap and sow.
Thank you for the moms and dads
That make us lovely food.
Thank You, God, for everything
Your world is so wonderful.

Amen

Prayer from lords-prayer-words.com
Gratitude Lesson & Activity 3
Thank Him Every Day
VERSE
16 Rejoice always, 17 pray without ceasing, 18 give thanks in all circumstances; for this is the will of God in Christ Jesus for you. — 1 Thessalonians 5:16-18
ACTIVITY
Gratitude Hunt
What you need:
A scavenger hunt list
(Use the one below or make up your own.)

Instructions:
Dedicate a length of time in your day to get out and about in your home and neighborhood. As you are exploring, take your scavenger hunt list with you and check the items you find off your list.

If you cannot take the item with you, snap a photo so you can have a longer discussion about thanking God later after you have completed your list.
As you recall each item, talk about why it is so special and how blessed you are to have it in your lives. Give your children new ways to thank God for these blessings and encourage them to give the same sorts of blessings to others.
Find something you're thankful for that…
You enjoy looking at
Is useful
Is your favorite color
You know someone else will enjoy
Makes you happy
Tastes good
Smells amazing
Makes you feel safe
Makes a beautiful sound
Is unexpected
Is unique to you
Makes you laugh
You love doing
Reminds you of a good time
Was a gift from someone else

PRAYER
Dear God,

Thank You, God, for feet to run.
Thank You, for my play and fun;
For eyes to see, for hands to lift
For food to eat, and every gift
That makes me strong
And wish to sing
Thank You, God, for everything.

Amen
Thanks be to God
Not only can we find God's love in the gifts He gives us but also, we can help it grow and multiply by recognizing and sharing those blessings with others. If we teach our children how to be thankful in all things, we can help them see that too.
How do you say thanks to God?
57 But thanks be to God, who gives us the victory through our Lord Jesus Christ. — Corinthians 15:57
Sign up to get updates sent directly to your inbox.