By Judy Makori; Senior Writer MOHI on Aug 20, 2020 2:12:49 PM
Bathsheba Kwamboka is a former student of Missions of Hope International (MOHI) Joska center. The 20-year-old joined the MOHI program in 2012 as a grade six student.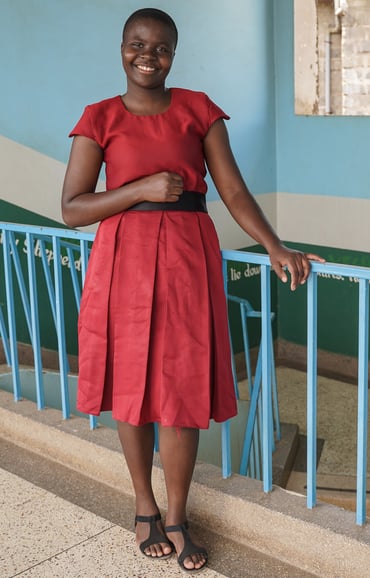 "I was born and raised in a Kenyan rural town where I lived with my parents and eight siblings," Kwamboka says. "My parents were having marital issues and they eventually separated. We were left with mum, who was a peasant farmer, and while she did her best to take care of us, it was a struggle."
Kwamboka tells me her mother got to learn about MOHI from her aunt who lives in Nairobi's Mathare North.
She had a friend working as a cleaner in our Joska center and it was she who recommended that the young girl join the school.
"Although I did not get direct sponsorship when I joined Joska, the school fee was highly subsidized and my mother was responsible for a very minimal amount. I was able to benefit from quality education in a boarding facility which made it easier for me to concentrate on my studies," she says.
For her high school, Kwamboka stayed with the MOHI program and continued her learning at the Joska center.
"Being in this environment really helped me grow as an all-rounded individual," she says. "I was nurtured spiritually and my faith grew due to the many spiritual programs we had at the school. We had many other activities that taught us essential life skills which gave me a different perspective in life. I learned that if I worked hard and put my trust in Jesus, I would see my dreams come true. This gave me hope."
When she was in high school, Kwamboka says her mother relocated to Nairobi with her five younger siblings. She got a job as a cleaner and was able to offer a better life to her family.
But even with these improved living conditions, Kwamboka says she knew there was very little hope that she would be able to pursue a college education.
She, nonetheless, worked hard in her academics and qualified to join the university. When the letter from Moi University came, it brought joy to Kwamboka and her mother, but also stress and a feeling of despondency.
"When I went to Joska to clear (i.e. return school textbooks and get a school leaving certificate), one of my teachers congratulated me for my good performance and when I responded, he inquired as to my low spirits. When I told him that I would not be going to university for lack of finances he told me about MOHI's Higher Education Fund and referred me to a staff member at Pangani."
Today, Kwamboka is a first year student studying Financial Economics at Moi University which is located in the Rift-Valley region of Kenya. She tells me that MOHI stepped-in and has continued to ensure she has everything she needs as she pursues her university education.
"This is a dream come true for me. I am eternally grateful to MOHI for the role they have played in my life. I once was not sure that I would go to high school - let alone college - and now here I am. I saw the number of concessions they gave to my mother whenever she had a challenge paying her portion of the fees. I never once had to stay out of class due to lack of school fees and having access to quality education has enabled me to pursue my university education without any challenges."
Kwamboka says her dream now is that once she is done with her education and gets a job she will also give back to society. She wants to help her mother and her younger siblings while being a role model and mentor to girls like her who come from disadvantaged backgrounds.
We thank God for Kwamboka's life. As we wish her success in her academic endeavors, we also pray that God's will is done in her life