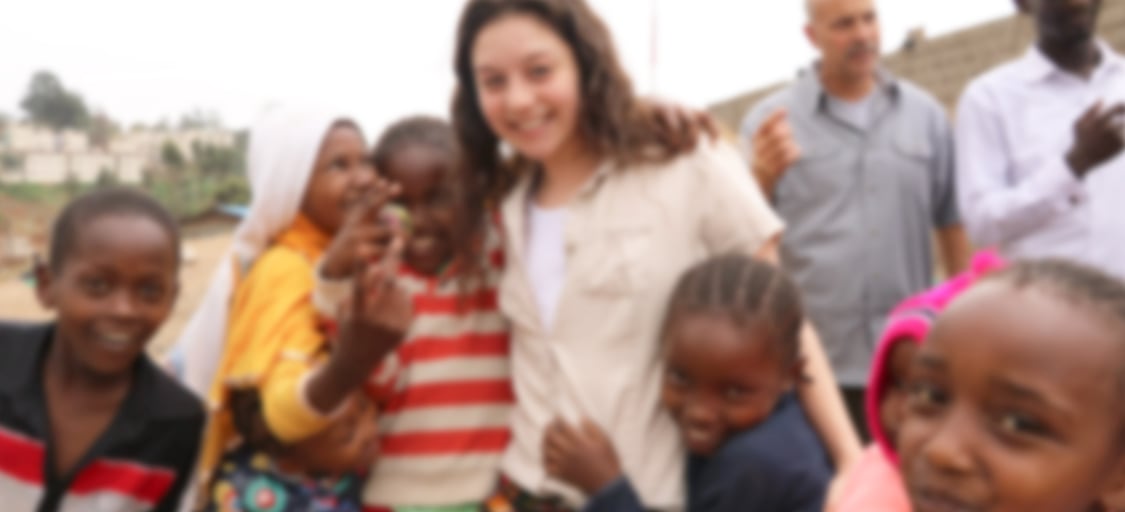 Mission Trips: Everything You Ever Wanted to Know
By
MOHI
on Apr 16, 2019 2:22:00 PM
Have you ever thought about going on a mission trip? Did you shy away from the idea because you weren't sure what it would take or where to begin? You're certainly not alone.

There is a lot to know about mission trips. From planning and preparing to packing and participating. This all-encompassing guide covers it all.
Read on to learn:
What are mission trips?
Mission trips are Christ-centered service experiences. They offer a wide variety of opportunities for participants to share and spread the word of God. They bring together groups of people interested in serving communities with abundant needs.
But they're more than volunteer projects. God is the central tenant of every mission trip. The purpose of a mission trip is not simply to deliver aid. It is to leave a lasting impact by leading people toward Him.
Why do people go on mission trips?
People who choose to go on a mission trip want to help communities that are not as fortunate as they are. They want to experience what it's like to impact the lives of others. They want to appreciate His Blessings, to share the Gospel, and to grow closer to God.
There are still many people who have never heard of our God or Jesus and His message of salvation and hope. So, people also go on mission trips to share His love — just as the disciples did.
Now the eleven disciples went to Galilee, to the mountain to which Jesus had directed them. And when they saw him they worshiped him, but some doubted. And Jesus came and said to them, "All authority in heaven and on earth has been given to me. Go therefore and make disciples of all nations, baptizing them in the name of the Father and of the Son and of the Holy Spirit, teaching them to observe all that I have commanded you. And behold, I am with you always, to the end of the age."
- Matthew 28:16-20

Millions of people who take part in mission trips each year. Many of them look forward to experiencing God's work. Whether they're looking for clarification and direction in their own lives or want to see Christ's impact magnified in new ways, loving and serving others allows them to give more of their life to Him.
Who goes on mission trips?
Any Christian with a desire to serve can participate in a mission trip. Groups of students, families, churches, and other organizations all take part.
The people who come together to serve are not always from the same area. In addition to church leaders, church members, and missionaries from around the world, participants often include other professionals from a wide range of fields.
People are attracted to missions for a variety of reasons. Qualities like their shared and/or mutually beneficial interests, skills, talents, and aspirations bring them together.
That can mean the history, backgrounds, and motivations of a single group vary widely. This diversity is beneficial, allowing the mission team to connect and serve on many different levels.
The only thing you really need to go on a mission trip is to be confident you are mentally, emotionally, and physically capable of performing the required duties. This is why it is important you fully understand the area and conditions into which you will be traveling.
---
Want to save this and read later? Download the PDF
---
Where can you go on mission trips?
You can participate in a mission trip across a large portion of the world. The map below from The Traveling Team shows the number of missionaries received in 2010.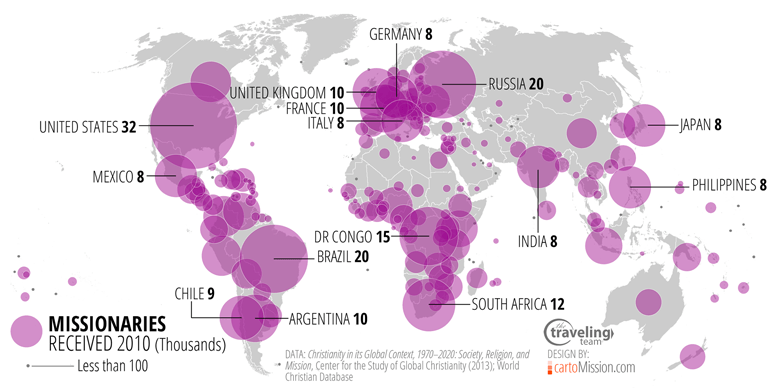 Source: http://www.thetravelingteam.org/stats
As you can see, there are many opportunities to participate. Websites like ShortTermMissions.com allow you to search for openings from a long list of mission agencies. You can also narrow your searches using criteria like region, activity, and length.
Or, if you have a specific location in mind you can visit an organization's website directly. Missions of Hope International (MOHI), for example, has opportunities available in Kenya, Africa. Contacting an organization directly will help you get your questions answered quickly and efficiently.
How do you choose a mission trip?
There are many organizations (like SIM and Bold Hope) set up to help match a servant with a call to serve. However, we recommend starting with your local church. First, meet with your clergyman to see if he or she is aware of opportunities that meet your interests.
There may also be others in your community looking for an opportunity to serve. Don't be afraid to hold an informational meeting and invite your fellow worshipers to learn about the benefits of mission trips.
Once you have researched available opportunities, we suggest narrowing them down by interest. Are you looking for an opportunity to travel abroad? Would you like to put a particular skillset to work? Next, you can decide on a location based on where you are able to travel.
Some trips are more expensive than others. So, the extent to which you can secure financial support may also play into your final decision.
Wherever you go, make sure you fully understand what you are trying to gain personally. This will help you can choose an opportunity to help you achieve your goals. Choosing in this manner will help you enjoy deeper spiritual growth while you are away.
For example, many of the people who participate in a mission trip to Kenya with MOHI go because they want to meet the children they sponsor. Others use the trip to help decide whether they would like to sponsor a child or go simply because they're passionate about helping children get a quality Christian education.
How long are mission trips?
Today's mission trips — no matter how long they are — are all considered short-term mission trips. A short-term mission could be as long as several months in Africa or as short as a weekend in the inner city.
Long-term missions, on the other hand, are considered lifelong journeys. This time can be spent in one location or many. A large number of mission staff members make lifetime commitments to serving short-term missions, for example.
Most likely the trip you are thinking about taking will be a short-term opportunity. Short term mission trips last anywhere from a couple of days to a couple of weeks. The exact time commitment can vary based on the location and the kind of project you are completing.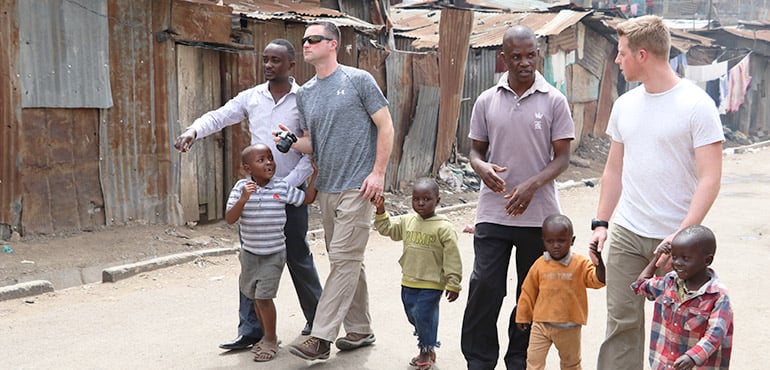 What do you do on mission trips?
When it comes to the tasks required for any mission, no two are ever the same. If you're teaching, your time might be spent in a classroom or church. If you are cleaning up after a natural disaster, you may spend all of your time outdoors performing hard physical labor.
But at their very root, all mission trips follow this same premise:
You'll be going to a specific destination to complete an assignment that betters the lives of the people living there — like building a house or church, working in a school, or planting trees. With MOHI, for example, your partnership will help facilitate a holistic transformation in urban slums and remote, rural areas of Kenya where resources are extremely limited.
While you're serving, your primary responsibilities will be to provide physical labor needs or to help meet educational objectives related to these tasks. However, your days also will be filled with activities that help you accomplish the mission's true purpose: bringing disparate souls to Christ.
In fact, prayer and reflection are the most important part of the mission experience. During your trip, you may have many opportunities to lead and participate in prayer with the local community or with your travel group. Many opportunities — like helping to start schools, churches, and training centers in Kenya with MOHI — will provide the needed resources so that longer-term missionaries can continue to share the Word of God daily with the community.
What do you learn on mission trips?
The biggest opportunity to learn on a mission trip comes as a result of your evangelism and God-focused mindset. As you serve, you will encounter opportunities to grow your relationship with Christ. By taking these chances to serve wholeheartedly, you will see situations and others like Jesus wants you to, forever changing the way you look at the world and your life.
Your learning can also be centered on your service work. If you're traveling to Kenya to install windows in local dwellings, for example, you might have to learn a few handyman basics like how to trim shims and apply caulk. It's possible these experiences will help you find new skills or interests you can take home and share.
There is also a chance to learn from the travel itself. Immersing yourself in another culture can help you to recognize differences in the world around you. As you come to love and appreciate the unique art, music, or cuisine of the area you are serving it can help you become more open-minded and loving toward others no matter their background or beliefs.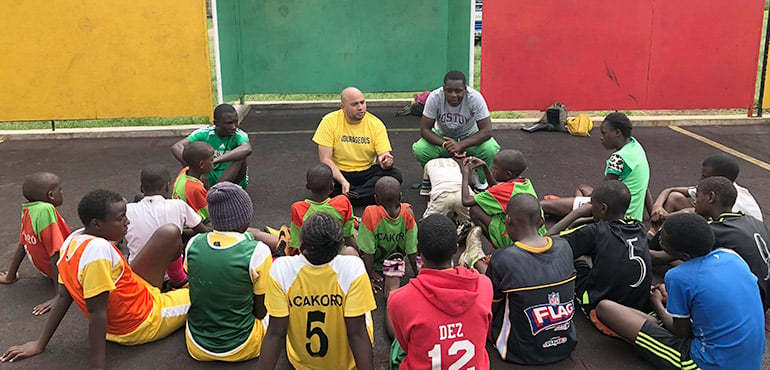 What kinds of mission trips are there and what is their purpose?
There are many different kinds of mission trips, each organized for a variety of reasons including education improvement, infrastructure repair, governance reform, and environmental sustainability. They often vary in length and are usually tailored for groups of people from children and teens to adults of all ages.
Some bring aid to countries suffering from the aftermath of war or natural disasters, some focus on meeting the medical needs of underserved communities. Still, others bring hope for women and children by empowering them to leave abusive situations.
Since the intentions of mission trips can be so diverse, their impacts can vary wildly, and the benefits can be many. The goal of mission trips, however, is constant: to love and serve others. Every mission trip embarks with the end purpose of helping others to find God while showing them how to walk in His ways.
What do you need to know before deciding to go on a mission trip?
Before you decide to go on a mission trip, take time to learn as much as you can about the culture, its people, and the community you will be visiting.
Ask yourself questions like these before making your final decision:
How do you feel about the area's customs?
Do you prefer an area where English is a commonly spoken language?
Are you reluctant to take any of the necessary precautions (like getting recommended vaccinations) before leaving?
Your answers will help you paint a clearer picture of the fit of the mission trip you are considering. As you are weighing your options be sure to thoroughly consider your personal limits regarding accommodations and safety as well.
Deciding to participate in a mission trip means you will be traveling somewhere you've never been before. It's important you deeply consider how much of a cultural leap you are ready to take. The anticipation of the trip can leave you with a very real fear of the unknown.
The good news is that overcoming these anxieties takes just a bit of preparation and a willingness to place your trust in God and His plan. Remember to pray about it. Pray for wisdom from the Bible and for God to grant you peace of mind.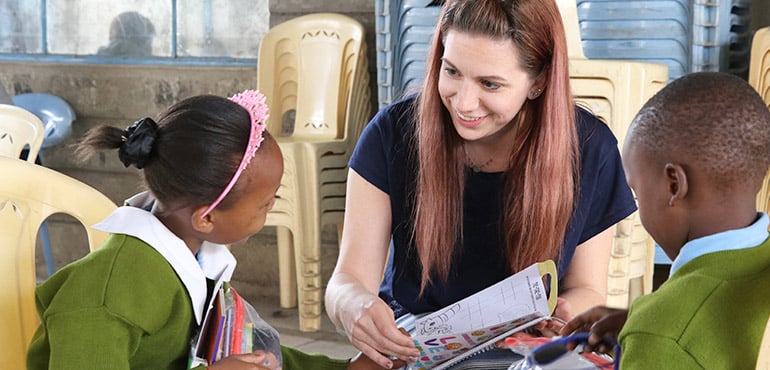 How much do mission trips cost and who pays for them?
One of the biggest questions someone who has never been on a mission trip before might ask is: Are mission trips expensive? The three biggest cost contributors are your travel, the length of your stay, and fees of the program you are participating in — if it's not a mission organized directly through your church.
The fee you pay for many programs — though it may seem unnecessary — can actually help you save money. The facilitators will arrange travel, accommodations, food, and other essentials for your entire group, saving you money and hassle because many of the incidental expenses you might encounter will be taken care of before you arrive.
But what is the financial cost, really?
The truth is that it can vary — from hundreds of dollars to thousands — based on where you are going and what you are doing. In general, some locations cost more than others. They require extensive preparations, travel, supplies, and time — which on the surface can all add up fast.
Often, the people going on a mission trip make sacrifices to support it with personal savings, through a loan, or contributions from their parents and other family and friends.
Expenses paid out of pocket to attend your mission trip could be tax-deductible under Internal Revenue Code section 501(c)(3). We recommend consulting your tax advisor for more information.
If you are worried about covering the cost of your trip, there are several ways you can save money. Reduce travel expenses by staying closer to home and avoiding peak travel times to the area you are serving. Additionally, you can try cutting accommodation costs by arranging part of your stay with a host family or local hostel. Lastly, check into local scholarships offered by your church or other community organizations.
If you decide the cost of a mission trip is out of your reach, consider sponsoring a child or community instead.
How do you raise money for mission trips?
Many mission groups start their fundraising process with a support letter to their immediate community. Support letters are multi-purpose: They ask for both the spiritual and financial support you'll need for your trip.
When you sit down to write yours, consider these tips:
Begin your letter by sharing your story
Share the news of your trip
Let recipients know how they can best support you (financially and spiritually)
Offer ways to stay in touch during and after your trip
Another very popular way to lower your mission trip's expenses is to raise money. From spaghetti feeds to online fundraisers, the list of ways to fund your mission trip can be endless.
There are also ways to raise support for your trip that does not involve money. As you prepare, consider asking for material items. Make and distribute a list and don't forget to include drop off and collection dates, locations, and times.
Finally, don't be afraid to ask for spiritual support. Let your supporters know how they can pray for you.
How do you prepare for a mission trip?
From what to pack to travel accommodations, there are a lot of things to think about before actually leaving on a mission trip.
But after you've prepared yourself physically, it is important to pause to strengthen your understanding of the Gospel as well. Studying the scriptures and praying daily are essential preparation steps too.

Preparing for a mission trip takes more than coming with an open mind though. Preparing emotionally for what is sure to be an emotional experience will help you to gain more from the opportunity. God will be with you, but you will have to leave behind your local support system and the familiarity of your home and church community.

Before you leave don't be afraid to reach out to recently returned mission travelers to ask about their experience. Hearing firsthand about their service can ease your mind and help you to pray about the experience that awaits you from a deeper perspective.

After you arrive, keep your heart open to fellowship opportunities. You will have a lot of shared experiences with the individuals on the journey with you. Take the time to seek the Lord and grow together in His Word.
What do you do when you get back from a mission trip?
Sharing your mission trip experience allows you to continue glorifying God even after the physical work is done. Seek out opportunities to talk with friends, family, and church members about what you did, what you saw, and how it impacted you. The opportunity for them to learn from you can be just as valuable to them as it was for you.
Talk about what it felt like doing the Lord's work, explain why you felt called to serve and what the experience was like once you arrived. Keeping a journal while on your trip can help you to call on your experience and share your reflections more deeply.
If you had the opportunity to take photos and videos during your trip, consider putting together a highlight reel to help friends and family really connect with what you have to say. As you share, remember to go beyond educating people about a different part of the world. Make it a goal to inspire others to serve God in a meaningful way as well.
---
Making a Commitment to God and Yourself
Your mission experience is not over once you return home. Participating in a mission trip brings an abundance of opportunity to share His teachings and grow in God's Word. Not only will you be impacting the lives of people around the world, but you'll also make an impact on those closest to you, and most of all have the chance to realize many changes in yourself.
If you have questions about how you can live your life in a mission-minded way or are looking for an opportunity to experience God's love abroad, don't be afraid to seek out mission trips.
Sign up to get updates sent directly to your inbox.