By MOHI on Aug 24, 2020 9:00:00 AM
---

OCTOBER 15, 2020 UPDATE: Although the Government of Kenya originally established January 2021 as the date to re-open schools, a revised plan, issued by the Ministry of Education on October 6, mandated that students in grades 4, 8, and 12 return to school on October 12. These grades were specifically chosen because they are required to take yearly exit exams.
---
It's back to school time in the U.S., but due to government restrictions schools in Kenya will not be allowed to reopen until January.
With the re-opening of schools on the horizon, the MOHI team is praying for guidance and resources to make it possible to serve students once again in a live learning environment.
How COVID has Impacted Education for MOHI Students
In March 2020, the pandemic forced a lockdown in Kenya to prevent the spread of COVID-19. This meant that schools were closed and students were required to stay at home.
Since then, the Kenyan government has canceled this year's exit exams and has declared the school year null. This means all students returning to school in January 2021 will repeat the 2020 school year. No students will advance to the next grade at the close of 2020.
While the MOHI social workers and teachers have adopted new techniques and strategies to provide distance learning and stay connected with MOHI students and families, there is still a great need to be back in school.
For our students, school is much more than just an education. Providing a safe, loving, encouraging, Christ-centered environment where the students can learn and grow is essential. With the pandemic keeping kids away from school, they're at increased risk for malnutrition, neglect, risky and/or harmful behavior, and a decline in their learning.
With the reopening of schools slated for January 2021, there are a variety of government required changes that must be implemented in order for MOHI to provide a safe and physically-distanced learning environment. This will require additional funding and resources, and a variety of adaptations to the classroom environment, dormitories, cleaning procedures, health precautions, and more.
According to our calculations, it will require an additional $40 per child to get our schools COVID-ready and back open in January.


What MOHI is Doing to Get Students Back to School
The Kenyan government has issued a number of guidelines that MOHI must abide by in order to reopen schools. These vary in complexity but are all aimed at providing a safe learning environment for the students, teachers, and staff.
1. MOHI Classrooms
MOHI students love learning – but the way our learning environment was set up in the past must be changed.
Due to COVID, schools must comply with a one-meter distance between learners. This means we must focus on physical space to govern class size, as opposed to teacher to student ratios. This presents us with challenging limitations to overcome. MOHI will need to build more classrooms, rent classroom space, hire more teachers, buy additional desks and blackboards, build partitions, and more to make the proper accommodations for safe and approved learning.
2. Cleaning and Disinfecting Procedures
Schools are required to clean and disinfect buildings and frequently touched surfaces, such as desks, door handles, switches, door frames, and book covers.
Our classrooms will need to be equipped with handwashing stations to encourage good hygiene. We're also required to install additional toilets and purchase infrared thermometers to monitor temperatures on a daily basis.
Additionally, MOHI will need to provide hand enough sanitizer for each child – getting 20,000 hand sanitizers to kids certainty adds up fast!
We're praying that the procedures will be adapted easily into our system and that God will provide the resources necessary to help us achieve this standard.


3. Face Masks for All
Face masks have been required in public since April – and will be required for students to attend school when it reopens. Since many of our parents could not afford to buy face masks in April, we've been producing our own through a crew of MOHI workers (and even some parents!) to create affordable 3-ply non-woven masks.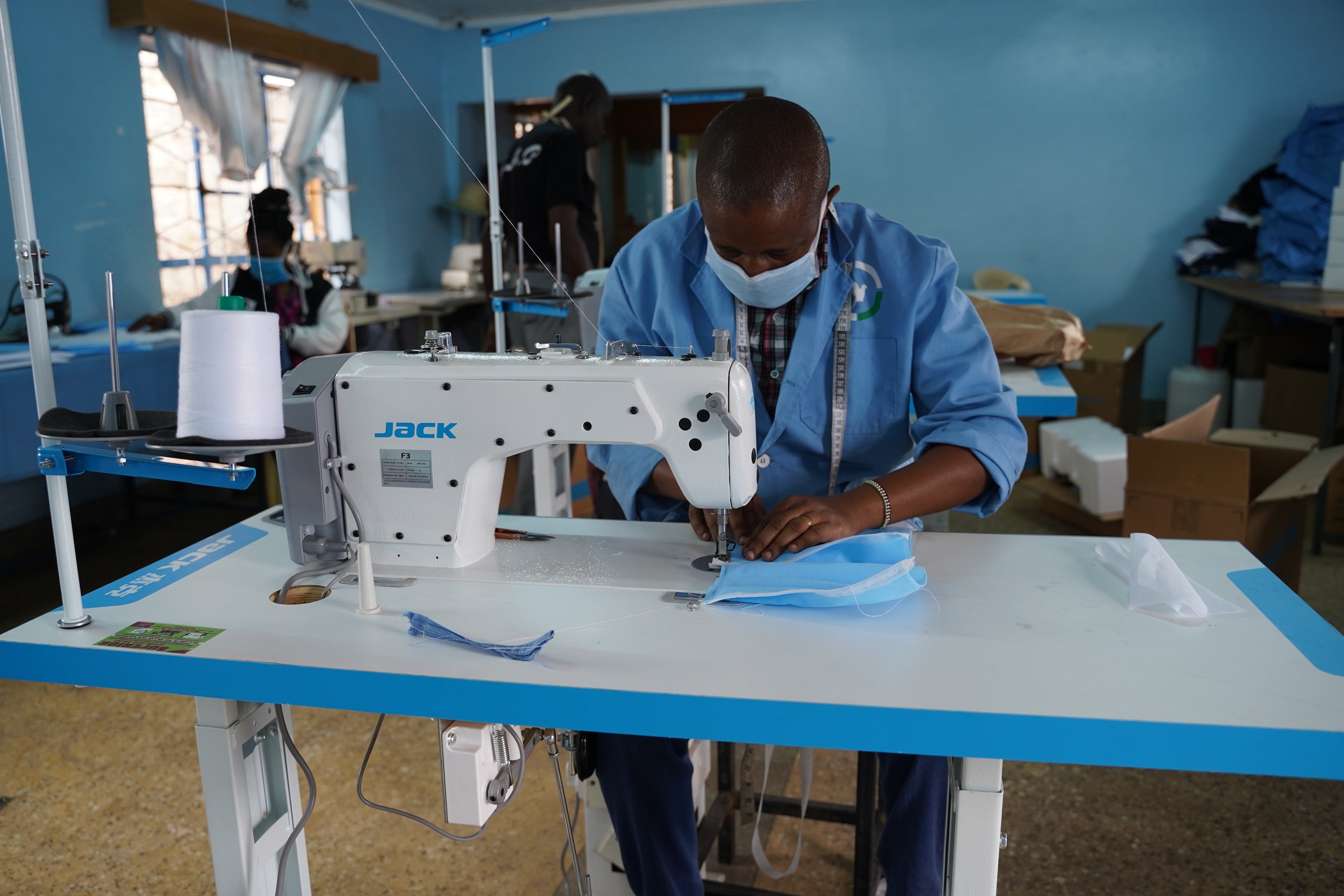 Since masks are needed to attend school, it's essential that we have the resources for our teams to make masks so they can provide them to our students and staff. Fabric, sewing supplies, and distribution are all critical to ensuring we meet this goal.
4. Updates to Dormitories
MOHI operates several boarding schools where the students live on campus full time during the school term.
MOHI will be making updates to the dormitories to ensure that we have the proper amount of physical distance between beds and living areas, along with installing plexiglass dividers in necessary areas as well.
Resources are needed in this area for construction updates as well as additional beds and mattresses.
Trusting God through the Changes
We recognize that these measures are critical to making sure MOHI students, teachers, and staff are safe, and can return to school in January. We're trusting God to help us navigate these changes and provide the resources, money, and people needed to make it all happen!
Thank you for your support of MOHI, students, and education in Kenya.
To learn more about how you can help, visit the Project Page to donate.