By Linet Wambui; writer MOHI on Feb 23, 2021 11:34:08 PM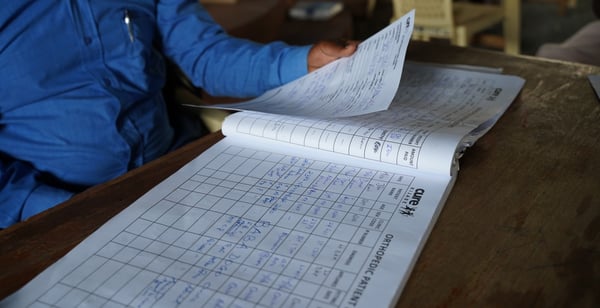 On Friday November 27th, the health department at Missions of Hope International (MOHI) held a medical camp at Baba Dogo. This was the third such event organized by MOHl in partnership with AIC CURE International Hospital. The other two were held in Bura and Kargi.
........................................................................
With a special invite from the health team, we arrived at the Baba Dogo Outreach Hope Church which is the venue of the orthopaedic medical camp. Targeted to children with special needs, we find parents waiting patiently to see the medics; their children safely cradled on their laps while the doctors tend to the young clients.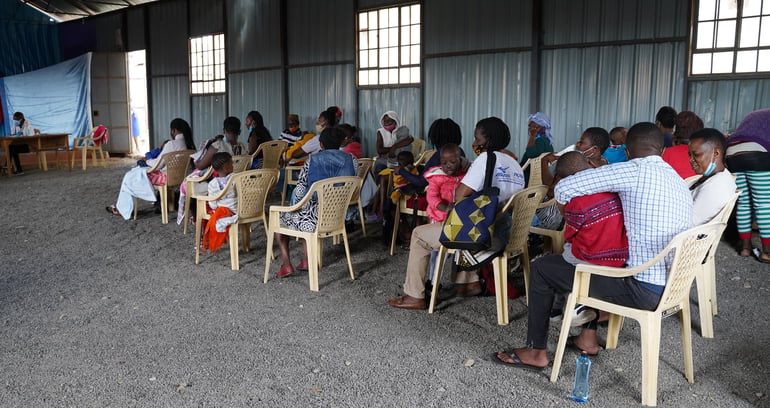 Proper Assessment
As the camera-person gets busy taking photos, I sit with Simon Ndegwa - the Occupational therapist at Baba Dogo centre - who gives me details of the day's events.
"Today's medical camp is focusing mainly on orthopedic disabilities," he says. " As you can see we have a number of assessment desks manned by medics working to determine what orthopedic issue a child is suffering from. So our services today will include pediatric orthopedics, prosthesis and orthotics fabrication, and general orthopedics."
Simon continues to emphasize the importance of orthopedic assessment: "It is only after proper assessment that the doctor can determine what challenges the child has and whether or not they need surgery. Today is all about making this service available to these children," he says.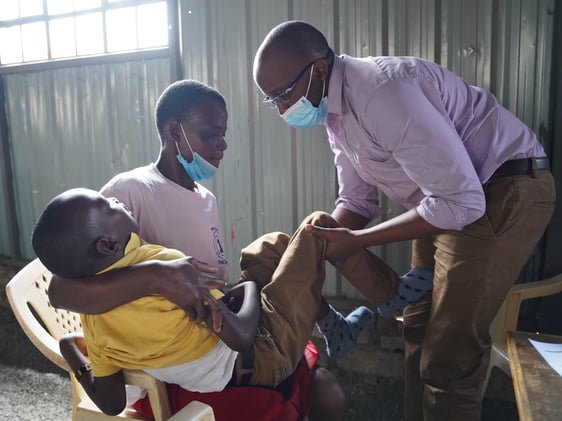 Having an idea of what the day's events entails, I seek-out MOHI's Health Manager - Dr Bernard Osinde - to discuss the root cause of orthopedic challenges in children from disadvantaged communities.
"Unfortunately, most orthopedic cases in these communities occur due to poor childbirth methods where the mothers opt to give birth at home without the benefit of professional medical care," he says.
Dr Osinde says another cause is that a lot of mothers who give birth in these communities are in their teen years. They are therefore not fully developed to facilitate childbirth and are not mature enough to take proper care of themselves. And even amongst the more mature women, many do not go for antenatal care hence do not benefit from a detailed birth plan.
"It is in antenatal care where the method of childbirth is determined. A mother is advised whether they can give birth by natural means or through the caesarian section," he says. "Not attending antenatal care therefore means that the woman will not know what delivery method is best and they end up going through an excruciating process that will end up causing harm to the child."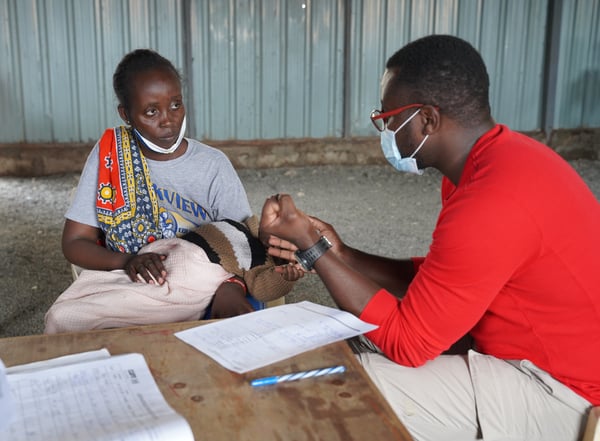 Dr Osinde identifies prolonged labor as another cause saying it can make the baby experience oxygen deprivation also known as birth asphyxiation. He says this situation can cause the baby to have permanent brain damage that could result to conditions such as cerebral palsy, developmental delays, learning disabilities and seizure disorders.
"Sadly, at least 80% of the cerebral palsy cases we have dealt with stem from poor childbirth and the damage varies depending on levels of asphyxiation. Children with this condition will have exaggerated reflexes, floppy or rigid limbs, and involuntary motions," he says.
As I watch more parents walk into the compound with their children, I ask Dr Osinde what cases they anticipate working with.
"Today we will be attending to all orthopedic cases such as spinal, arm and leg deformities as well as deformities of the musculoskeletal system such as palate and cleft lip," he says. "As we treat the children, we will identify those who need surgery, and these will be done either in December this year or in February 2021 - free of charge."
I ask Dr Osinde about the importance of the medical camp and he says it is important because it will help his department - "spread awareness of not only orthopedic issues but also safe childbirth methods which when practised will reduce the number of cases."
Role of Nutrition
Leaving Dr Osinde to carry on with his duties, I talk to MOHI's nutritionist - Maureen Kendi on the role nutrition plays in orthopedic health.
"The patient's nutritional status is an important determinant of bone health, successful treatment of orthopedic and metabolic bone diseases, as well as the successful outcome of orthopedic surgical procedures," she says.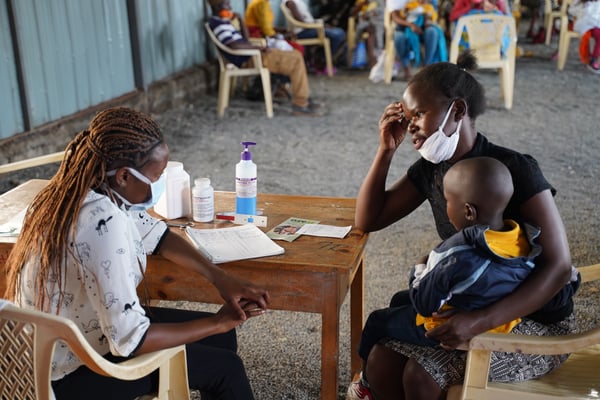 As part of the medical team manning one of the assessment desks, Kendi tells me she is advising parents on how to meet their children's nutritional needs depending on the presenting orthopedic problem.
"We discuss the food groups their children need to eat and I also guide them on how to feed a child who cannot coordinate chewing and or swallowing.
For children who are underweight, we provide weight gain supplements and immune boosters.
These are essential especially for children undergoing physiotherapy, not only to get them to a healthy weight but so they can fully benefit from the treatment," she says.
Social Stigma
As I conduct my interviews, I notice that majority of the parents streaming into the compound are mothers. There are only a handful of fathers in the vicinity. I turn to MOHI's spiritual development officer Mary Ikindu to help shed some light on this matter.
"Orthopedic diseases in these communities are usually associated with curses and stigma. Most people believe that when a child has an orthopedic issue - that child is cursed. That explains why you see a lot of women coming into the compound instead of men," she says.
I ask her to further explain and she says: "Most men abandon their families once they realize a child has special needs. The preconceived notion that the child is cursed makes these fathers ashamed of their children and when they leave, the mother is left to fend for the child all by herself," she says.
I ask Mary about the importance of spiritual counseling for parents with special needs children and she says it is a life-line they cannot do without.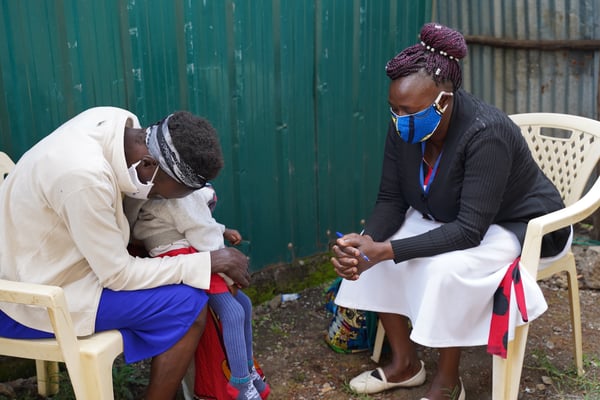 "Remember that these children suffer from conditions that their parents wish they did not and because of stigma from society, they feel like God has also abandoned them. My role therefore, is to ensure that the parents know that they, and their children, are loved by God and that they are not cursed," she says.
Mary says they also work with the parents teaching them to be proud of their children, to stop isolating themselves from their community and to love their children unconditionally as God loves them.
I have to cut my interview with Mary short because she too has a desk she is manning and a client in need of her attention.
Sharing God's love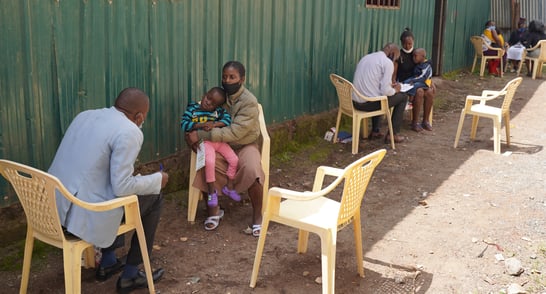 Mary is one of the counsellors working side-by-side with the medics. Their role is to talk and pray with the parents and in so doing help lighten the emotional load that these parents bear as they raise their children with special needs. They also get to share the love of God in order to encourage the parents along their journey.
........................................................................
When the medical camp closed its doors at 2pm, 44 clients had been attended to and five children scheduled for surgery in February 2021. Four others were booked for orthopedic measurements in December 2020 so they can be fitted with special leg braces to aid their movement.
We give God all the glory for using the team from MOHI and Cure Kenya to offer medical interventions and timely services to His people.