MOHI Year in Review
By
MOHI
on Dec 24, 2015 11:38:00 AM
The conclusion of 2015 is right around the corner. This year marked the 15th anniversary of MOHI! As we reflect on this milestone year, we see numerous blessings and challenges that God has given to us at MOHI. God's faithfulness has been evident in all that has happened this year.
He continues to grow MOHI organizationally and expand our territories for His glory. Additionally, He continues to use faithful friends and partners like you to help us minister to thousands of children, their families, and others in Mathare Valley slum and other disadvantaged communities in Kenya. Countless lives have been changed through your support, as many of you have personally witnessed in visiting us.
Together, we have accomplished much for God's Kingdom in 2015! We want to briefly share a few of these successes with you.
Education
MOHI educates more than 12,500 children in Mathare Valley, Machakos, and Turkana counties. On average, 20% of MOHI's students remain unsponsored. Please join us in promoting sponsorship to your congregation, friends, and family members. Our goal is for all MOHI students to be sponsored in 2016! Click here to sponsor a MOHI student.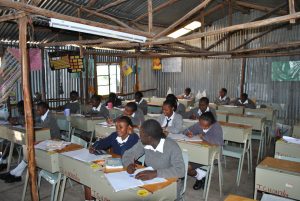 Expansion was a recurring theme for MOHI this year. Due to our continued growth, many MOHI centers are currently under construction to accommodate even more students. These centers include Area 2, Kosovo, Bondeni, Mabatini, Joska, Ndovoini and Napuu. At our Napuu center in Lodwar, Turkana, construction is underway to add a boarding facility at the center. Architectural plans for Mathare North and Madoya are being developed and we hope to commence the construction work in 2016. In our Korogocho schools, we are waiting for the government to formalize the land ownership, which is in process. We are thankful for all of our partners who financially support these centers to create a better learning environment for our students!
Additionally, for the first time in our history, MOHI partnered with two different public schools to enhance their educational programs. These schools are located in the villages of Kangagetei and Napusimoru in Turkana County. MOHI will help facilitate child sponsorship, help with teacher hiring and training, secure additional classroom resources, and improve the feeding programs.
We launched a new school uniform this year that will be worn by all of our students in 2016. The standardized school uniform prominently features the MOHI logo on a green sweater, with the name of the student's specific school under the logo. The new uniforms are made of high-quality materials to allow more extensive wear throughout the school year. MOHI is giving our students one complete uniform, and their parents will purchase a second complete uniform. Click here to help us give a student one complete uniform and a Bible.
At the end of this school year, 416 MOHI students from six different centers completed their Kenyan national exams for admission to high school. It was the first year that 8th-grade students from our Nairobi centers Pangani, Kosovo, Bondeni, and Mathare North sat for the exam. Furthermore, 1,500 MOHI students graduated from kindergarten at all of our centers. Also, we celebrated the first MOHI student to study internationally at university.
Spiritual Development
This year, our second class of discipleship officers graduated from The Urban Ministry Institute (TUMI). TUMI equips leaders for the urban church, especially among those in greatest need, to advance the Kingdom of God. The graduates completed a two-year course and received certificates from Hope International University.

We also hosted several conferences throughout the year to enhance the spiritual development of men, women, and youth. Hundreds of women from Mathare Valley attended our annual women's conference, which challenged them to serve God in whatever situation they find themselves. Also, more than 800 Mathare teenagers attended various trainings at the end of the school year to equip them for young adulthood. Topics included healthy relationships, sexuality, integrity, substance abuse, and pursuing healthy goals.
Health/ Community Outreach
This year, we've treated thousands of patients in MOHI's clinics. Our healthcare facilities at Joska, Pangani, and Napuu served more than 3,200 patients in the past three months alone! Also, short-term mission team helped us treat thousands more patients at different centers, including remote areas of Turkana. This means that thousands of individuals who could not otherwise access quality medical care benefited from your knowledge, skills, and generosity.
The Kenyan government upgraded our Joska clinic to a full-service healthcare center that is open to the entire Joska community and surrounding areas. Also, our Pangani clinic received a new ultra-sound machine from a generous donor that will improve preventative care and aid in diagnoses.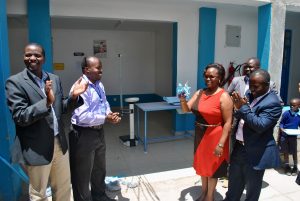 Through our partnership with U.S.-based nonprofit Africa Fire Mission, Kenyan fire fighters and Mathare community members received annual training on fire prevention and safety. Fire destroys many homes and lives in Mathare Valley due to overcrowded living conditions. We are thankful for partners like AFM who teach safety and good practices to community members so that house fires are decreased.
Business Development/ Sustainability
Our Business Development Services department had a banner year!


This equates to thousands of small business owners from Mathare Valley who can now support their families with a steady income. Additionally, our skills training program continues to transform lives by teaching adults marketable skills to obtain jobs to provide for their families. More importantly, our trainers share the love of Christ with these groups!
MOHI is constructing a new skills training center, Kariobangi, where all of our skills training programs will be conducted instead of at our Pangani center. We hope to move all skills programs to Kariobangi by January 2016.
As we look ahead to a new year of exciting ministries at MOHI, we thank God for how far He has brought us over the past 15 years. We also thank you for supporting us prayerfully, financially, with your time, and through many other investments in many lives.
We look forward to partnering with you again in 2016 as God continues to transform lives through our ministry together! We also pray that you will have the opportunity to visit MOHI in person next year. We invite you to minister with us and to experience the unending blessings of serving children and families in disadvantaged communities through our Lord Jesus Christ.
We wish you and your families a very Merry Christmas and a Happy New Year!
Blessings,
Pastor Wallace & Mary Kamau
Sign up to get updates sent directly to your inbox.