Meet the Fire 'Evangelist'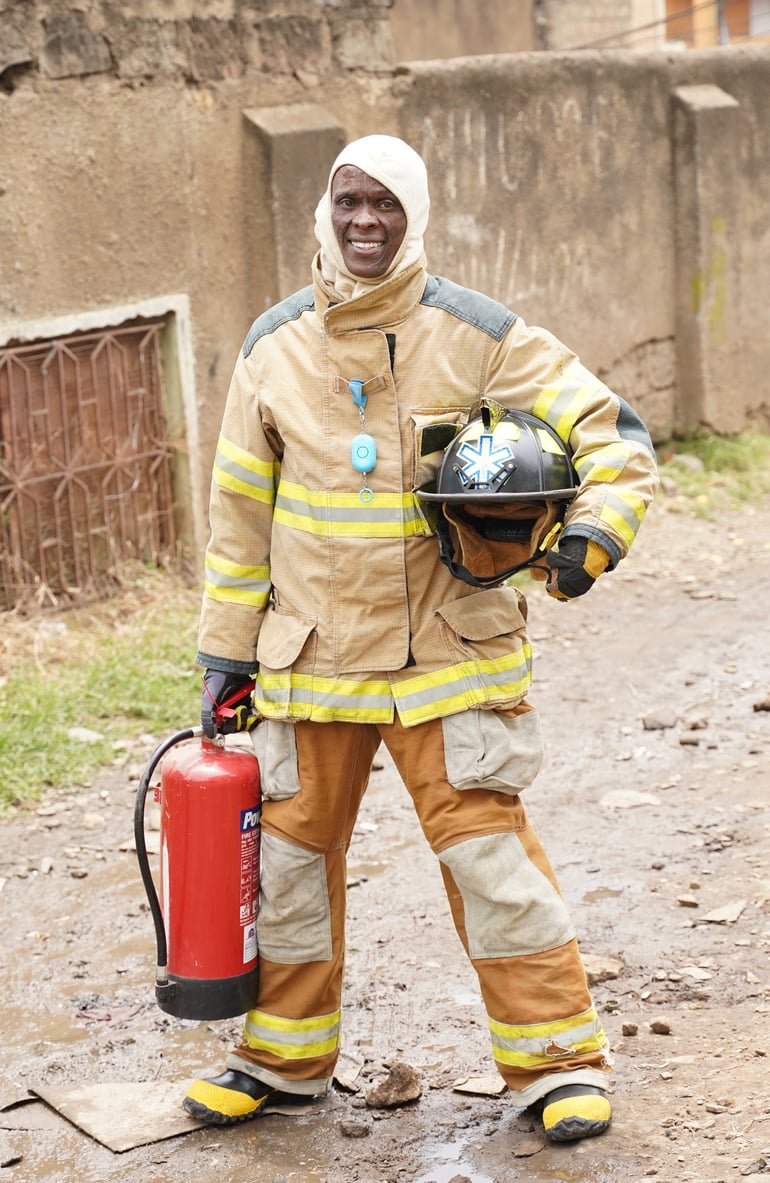 It is a chilly Monday morning when we sit down for an interview with Missions of Hope International (MOHI)'s fire advocate, Jose' Njuki-Imwe Ngunjiri, who calls himself the fire evangelist.
"I am all about teaching people how to interact with fire," he tells me. "I remind them that while fire is your friend, if you do not focus on it when in use, fire can be a devastating foe. Each day before I report to work, my prayer is: Lord lead me where the fire is before it happens. I have seen him do that."
Jose' is a 39-year-old single father of an eight-year-old boy. He was raised by both parents, growing up as the last born in a family of six children. His father was an engineer and his mother owned a grocery shop that was a few meters from where the family was staying.
His passion about fire may have something to do with the fact that he knows only too well the devastating effects that unmanaged fire portends. It is impossible to interact with Jose' and not notice the burn scars on his face and his hands. His left hand is missing a few fingers.
Yet despite these obvious limitations, Jose' is a genial, jolly fellow with a ready smile and a witty way of telling his story.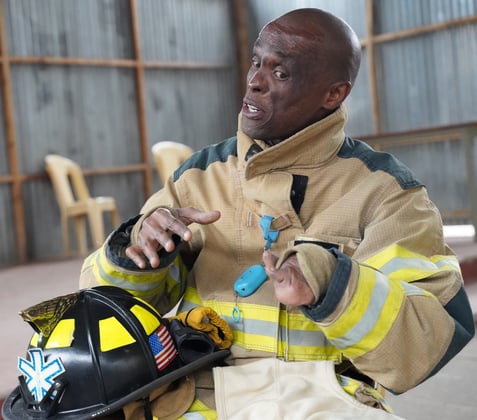 "I was a tiny four-month-old baby when this happened to me," he says. "Our nanny left something cooking on the stove and opted to also leave me in the house as she rushed to pick up my older sister from school."
As he elaborates further, Jose' tells me this was not the usual practise.
"The arrangement was that everyday at noon, the nanny would take me to my mother's grocery shop and leave me there then head out to pick up my sister from kindergarten. She would then pass by the shop with my sister and the three of us would go on home," he says.
On this day the nanny, for reasons best known to her, decided to change the routine and ended up leaving Jose' asleep on the upper bunk bed. She was on her way back when she saw smoke and when they drew closer she realised that the house was on fire.
"As I grew older and got to learn what happened on that day, I was told that our nanny ran very fast to the burning house. Neighbors were trying to break down the door and someone had already called the fire department, sirens could be heard at a distance but my nanny did not wait for the firemen to get there. She broke down the door, dashed into the house and grabbed me from the bed. Someone else had also alerted my mother and I was told she left everything and came running barefoot. My mother got there just as the firemen did and they met my nanny coming down the stairs with me. She also suffered severe burns on her arms but her quick actions saved my life."
Jose' was barely alive. Hardly breathing, his face pink and raw, his fingers falling off. Some nearby taxis rushed him and his distressed mother to a local hospital where the prognosis was not very good.
"By the time we got to the hospital, I was not breathing. My father got there a few minutes after we arrived and the doctors told my parents my chances of survival were minimal. I had suffered third degree burns, had inhaled copious amounts of carbon monoxide and I was not able to breathe on my own. They were asked to prepare for the worst."
Jose' mother refused to accept this diagnosis and she started to pray; asking God to save the life of her little baby. The Lord heard her prayer. Quite unexpectedly, little Jose' started to breathe on his own and was soon stable enough to go into skin grafting surgery.
"This surgery was the first among many such surgeries that I continue to have to date," he tells me. "I ended up staying at the hospital for nine months. It was a grueling time for my family. Not only did we lose everything in the fire that ravaged our home, my siblings had to do without their mother for nine months while my parents had to endure the torture of seeing their little child go through one intensive surgery after the other."
Jose' was eventually discharged from the hospital and went on to live his life as any other normal child. He tells me that his pre-school years are a happy time for him because he was not aware that he was different; no-one in his life treated him as such.
"It was not until I joined grade one that I realised I was different. I was really bullied, laughed at and shunned by my peers. They would make fun of me and say my left hand looked like a golf ball. This treatment had a negative impact on my studies and I endured it quietly for many years."
It however, got to the point where it was more than he could handle and Jose' became a fighter. He was constantly in trouble with the school administration because of beating up other children.
When he was about nine-years-old and in grade 3, he stabbed a classmate with a thumb screw compass after she made fun of him.
"My parents were summoned to school and they had to pay for this girl's medical bills. While I was still a rather angry child, my actions on this day took me a back slightly. Soon after this, I attended a church-sponsored event and heard the gospel preached. I had been raised Catholic and having a personal relationship with Christ was not something I was entirely familiar with. Giving my life to Christ calmed me down somewhat but I was still struggling with my anger issues and I would still lash out if someone made fun of my looks".
A few years later, Jose' family dynamics changed after his father lost his job and the family started struggling financially. Suddenly finding himself in a new economic status, it was hard for the young boy to adjust and he started suffering from low self-esteem issues. The trauma of suddenly having to make do without things that were previously readily available further impacted Jose'; affecting his concentration while in class which translated to him failing his primary education exit exam.
Despite his dismal performance, Jose' did secure a slot in high school. Still struggling with low self-esteem issues, he was not doing well in class but became very active in extracurricular activities. He joined a club that teaches first aid, disaster preparedness, para-medicine and fire-fighting. He became really good at these skills and was made head of the club.
Despite having a passion for this line of work, Jose' did not pursue it after his high school education. He set out into the mobile phone industry and ended up working as a phone technician. For the next 14 years, Jose' made a name for himself in this industry, rising through the ranks to managerial positions.
"Life was good," he tells me - a knowing smile playing on his lips. "Things were looking up, I was advancing in my career, I even settled down with my girlfriend and we had a son together. I tried my hand on other businesses and these too were thriving. Pride soon found lodging in my heart and I was not even aware of its presence. I started thinking that it was my own strength and smarts that had put me where I was - I forgot that this was all favor from God."
Then in the year 2014 everything came to a head.
"I had been feeling dissatisfied with my work as a phone technician. I wanted to engage in something that I felt was making a difference so I decided to quit. That was when things started falling apart for me and I ended up losing everything.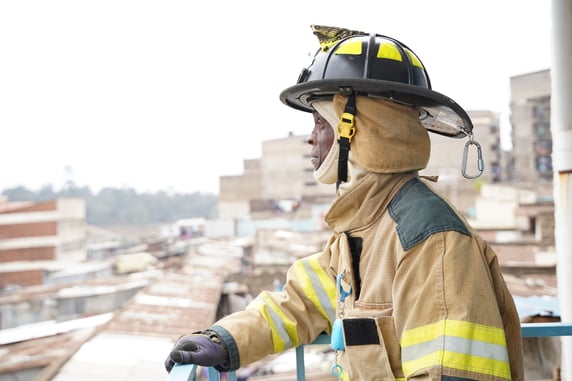 I lost my ability to provide and my girlfriend left but I chose to stay with my infant son. I was thrown out of my rental home and without an option, I moved back in with my parents," he says.
For the next two years, Jose' took time to evaluate his life and work on his relationship with God. He looked for jobs but none were forthcoming and it was a really stressful time for him.
As he continued trusting God to make a way for him, Jose' found his mind taking him back to his high school days when he was in-charge of the St John's Ambulance club.
He remembered the joy he derived in having skills that could be beneficial to other members of the community. As time went on, Jose' started feeling his desire to become a fire-fighter start to awaken within him and he decided to pursue it.
"I chanced upon an advertisement that was calling for interested persons to register for a fire training course. It was a nine-month program and I immediately registered to be a part of it. That is how my journey as a fire advocate started."
Apart from the formal training, Jose' attended a fire symposium that was being run by Africa Fire Mission (AFM). When he attended a second symposium in 2017, he started to develop a good relationship with the people at AFM. It was this budding relationship that eventually saw Jose' find his way to Missions of Hope International (MOHI).
"AFM works closely with MOHI and so when a fire safety advocate was needed, they called upon me," he says.
Today Jose' is not only there to respond when fires break-out, he also trains to impart skills on how to best handle fire. He conducts drills, talks about the dangers of illegal electricity connections, safe use of lanterns and teaches on what steps to take when facing a fire disaster.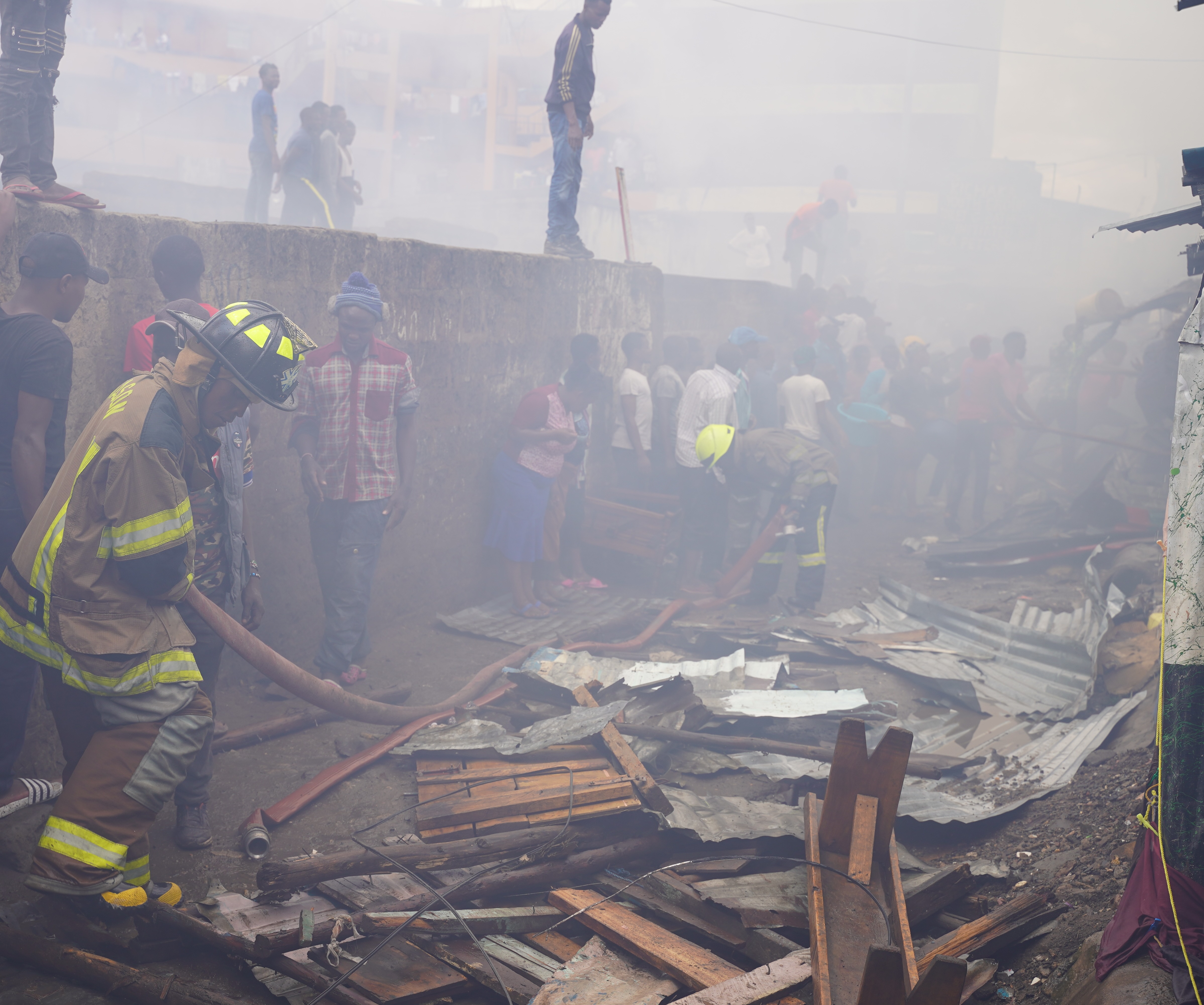 "I really thank God for this opportunity that enables me to make a real tangible difference. In my work, I find there is a lot of ignorance around the handling of fire and of fire-fighting as a profession. It gives me immense joy to be able to change these perceptions and teach something new to someone.
Being a fireman is a noble vocation and I can say I have found my calling and sense of purpose. God has indeed restored me."
…………
Partner with us in the work God has called us to do among the children, families and communities of Mathare Valley. Join us as we bring holistic transformation to these precious souls.
Sign up to get updates sent directly to your inbox.