By Judy Makori; Senior Writer MOHI on Nov 8, 2019 3:30:00 AM
At a recent trip to Missions of Hope International (MOHI)'s Skills Training Center in Kariobangi, we had occasion to have a sit down with Samuel Mativo.
He is one of the students at the center that offers vocational training to community members. There are an array of courses available for both men and women. Samuel is studying the hairdressing and beauty course.
Busy at work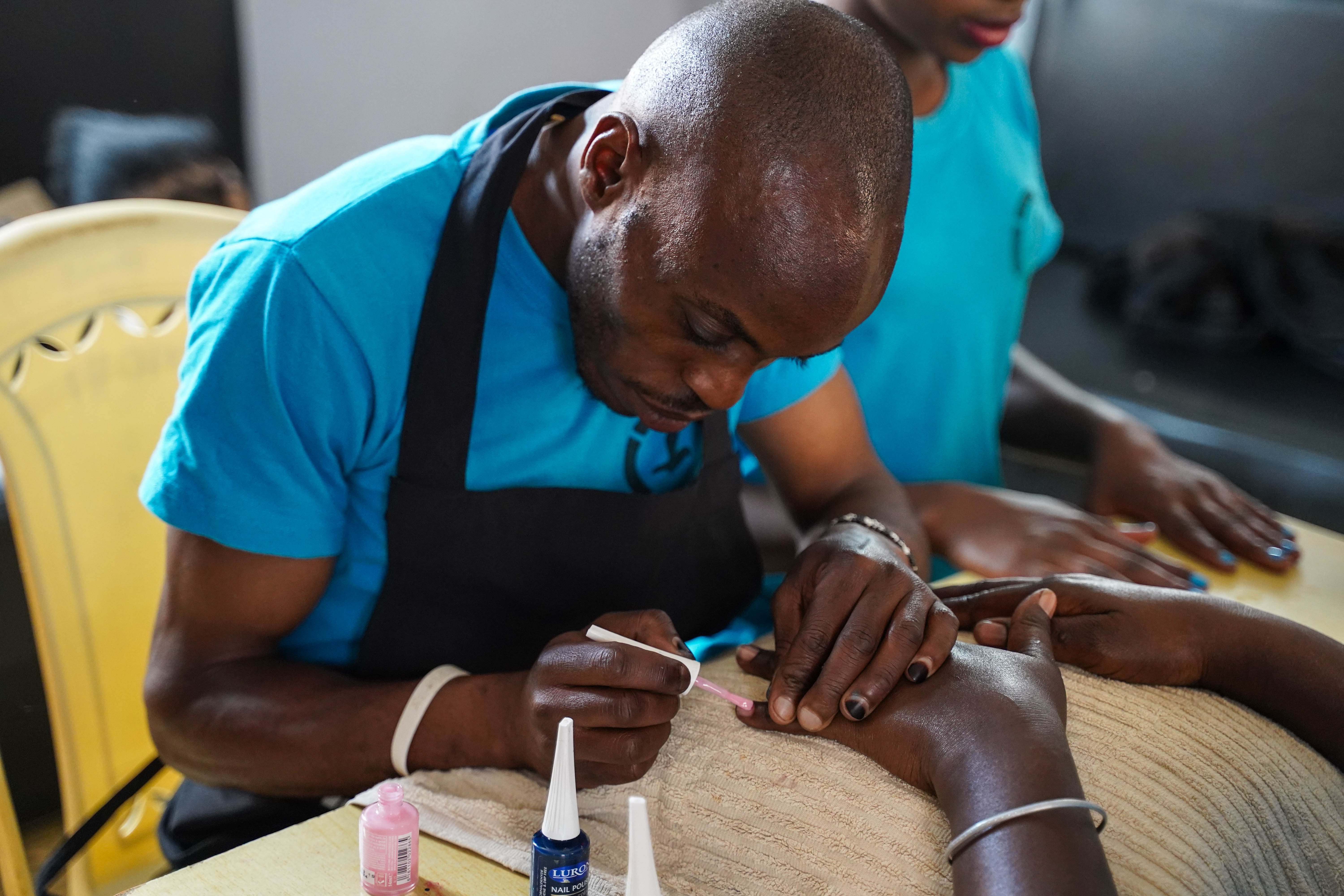 When we get to the center, we find Samuel busy filing nails and applying polish. Although he stands out as the only male in the hairdressing and beauty class, he is meticulous in his work and watching him work is a joy.
We take him away from his passion and sit with him for a few minutes in order to learn about the man behind the trade.
"I am the first born and have three siblings," he tells us. "As far back as I can remember, I was raised by my grandmother and we lived in the Kariobangi area. I had a pretty uneventful childhood but all this changed when I was about 13-years-old and in grade seven."
At this vulnerable age, Samuel was approached by his older cousins who told him they wanted to induct him into their work. At the time, he did not know that they were hardened criminals who were into car-jacking. Together with other potential recruits, Samuel was told they had to pass two tests before being allowed into the group.
"I was a child who desperately wanted to fit in and I was willing to do anything," he says. "The first test was for us to break into a shop in town and steal from it; we did this successfully. Then we were told to break into a well-guarded compound and check out their array of vehicles. It was a challenge but we also nailed this one."
A way of life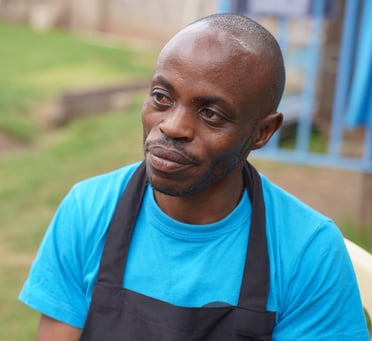 Having passed the induction, Samuel was among those assimilated into the crew and therein began his career as a carjacker. They would steal cars to sell for parts and rob passengers in the process.
"We had a base in Nairobi's Kayole area and it was there that we would meet and make our plans. It was also here that we would take vows that we will defend each other to the death. I was very young but I was becoming really good at this and from 2001 and 2002, we were on a carjacking spree."
This lifestyle became the norm for the young boy and it soon affected his studies. Samuel would skip school severally and his grandmother was not even aware of what he was up to. He eventually dropped out of school and went full-time into this lifestyle, until December 2006 when the tables turned.
"We had carried out a carjacking and everything was going according to plan when the police showed up. My four cousins were shot dead but I, and another accomplice, fled. The police chased us and when we realised we were cornered, we hurriedly got rid of the guns we had with us. This was the first and only time I was ever arrested," he says.
A turning point
Samuel was given a six-month jail sentence and it was during his incarceration that he gave his life to Christ and started making definite strides to change his life. He served his time without much incidence and by the time he walked out of jail, he was a totally different person.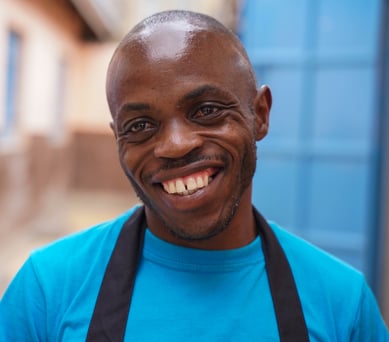 Samuel tells me that the years following his imprisonment were a time of reflection as he determined not to go back to his old days.
"When I saw my older cousins die, I realised that this was also the fate that awaited me. It was during this time that I determined that I would go back to school and do things the right way. The opportunity eventually presented itself and I went back to grade six in 2008 and sat for my primary school exit exam in 2009," he says.
Unable to further his studies Samuel remained home as he continued to trust God for open doors so that he could undertake a technical course. It was at this time that he came to learn about MOHI's skills training center.
"One of my younger sisters is a student at the Baba Dogo center and when I learned about the work MOHI does in society I was interested. It was then that I got to learn that there is a skills center that offers various courses. In 2018, I eventually came onboard as a student to learn welding and plumbing.
A new dream
It was while going through this training that Samuel's interest in hairdressing and beauty was piqued. He however, went on to finish his training in welding and plumbing before registering for the hairdressing and beauty class in January 2019.
He soon found that his true interest lay in providing professional manicures and pedicures and he has been working at improving his skills.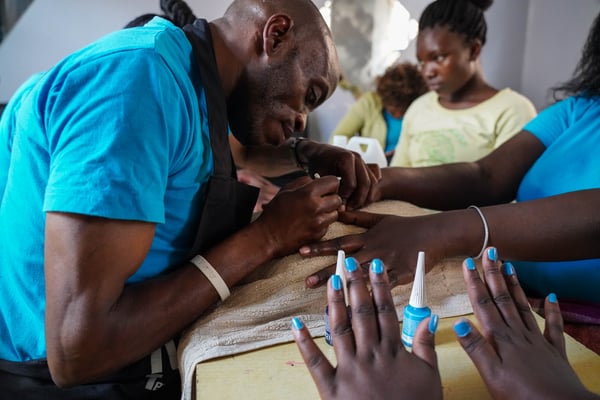 "In April I got an apprenticeship somewhere and this has helped me further grow my skill while I earn a living. It feels good to make money the right way and I am so thankful to MOHI for the opportunity they gave me. I believe God has used them to change my life so that I can become independent without resorting to my old thieving ways.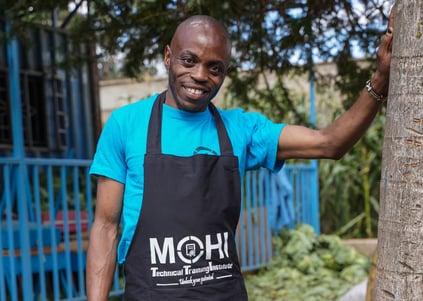 Being in this training center has not only given me a skill that I did not have before, It has also helped grow my faith. All the devotions and spiritual programs we attend here have increased my understanding of Scripture and taught me how to pray.
My dream now is to finish school and set up my own nail spa. I also intend to teach others and pass on the skills I have learned.
May God help to make this a reality".
As Samuel gets ready to exit and enter into the job market, our prayer is that the Lord will make a way for him and help him excel. Join us as we keep him in prayer.
…………
Partner with us in the work God has called us to do among the children, families and communities of Mathare Valley. Join us as we bring holistic transformation to these precious souls.