By Judy Makori; Senior Writer MOHI on Feb 5, 2021 8:33:28 AM
Sarah Muthoni Kariuki is an alumna of Missions of Hope International (MOHI). The 24-year-old graduated in December 2020 with a BA in Political Science and Public Administration.
We sat with Sarah for an interview – to document her achievement – and she told us that she was born and raised in rural Kenya, where she lived with her paternal grandmother, her parents and her two siblings.
Sarah said her mother and grandmother did not have a cordial relationship but her father served as a unifying factor and as a result, the family remained intact. This however, changed in 2007 when Sarah's father got a job outside the country.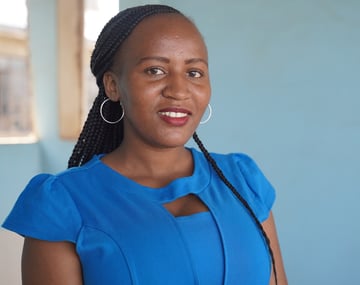 "After he left, things became increasingly strained between the two and my grandmother eventually chased my mother away," she said. "My mother left us behind, with a promise to return, and she came to live in Nairobi with her sister – my aunt."
Not long after this, Sarah tells me that she and her siblings were also asked to leave their home and they went to live with their maternal grandmother. Not long after this, their mother came for them.
"Although she was struggling to make ends meet, my mother wanted us to be with her in Nairobi and she also wanted us to continue with our studies," Sarah says.
"My aunt's son was already in MOHI and it was my mother's desire that we too should join the program. She had already secured an interview for us."
After the interview, Sarah joined the boarding program at Joska as a grade six student. She says being in the boarding school helped her to focus on her studies and a year later, in 2010, she gave her life to Christ.
"Being in the MOHI program changed my life," she says. "I now had hope for the future because I knew that all my academic needs would be catered for. Having a personal relationship with Jesus Christ was also life changing and the many spiritual programs MOHI offered us really helped to nurture my faith. Today, I am still standing strong in my faith because of the foundation I received at MOHI."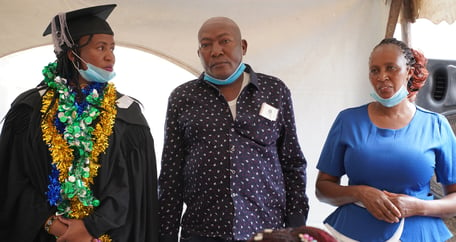 At the same time, things were also changing for Sarah and her family at the home-front.
Her father came back to Kenya - in late 2010 and after finding his family gone from his family home, he started looking for them. Her parents were later reunited and the family opted to live together in Nairobi.
"I graduated from Joska in 2011 to proceed with my high school education and once again MOHI stepped in. From 2012, when I joined grade nine, to 2015, when I sat for my high school exit exams, MOHI ensured that I had everything I needed," she says.
Having scored a B, Sarah automatically qualified to join university and she did so in 2016. Courtesy of MOHI's higher Education Fund – which gives loans to MOHI graduates (https://give.mohiafrica.org/category/projects/mohi-university-assistance), Sarah has been able to go through her four years of study without any challenges.
"Today I stand as the first person in my whole family to attend and then graduate from university," Sarah says smiling broadly. "I give all glory to God for this achievement and I am eternally grateful for the support I received from MOHI."
As we conclude the interview, I ask Sarah what her plans are now that she has successfully completed her studies.
"I want to work for my country," she says without hesitation.
"I want to help people; give back to society just like MOHI gave to me. I want to make a difference just like my sponsors - Graham and Janie - did when they took me on. It took a lot of sacrifice from many people to get me where I am today – it is now my turn to make the same sacrifices on behalf of someone else.
………..........
We thank God for your continued support that makes it possible for us to reach out to young people like Sarah and offer them quality education and hope for a better tomorrow. Truly, your partnership makes a difference as we work together to transform lives through the hope of Christ.