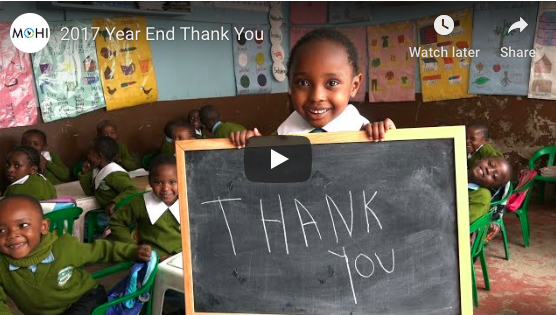 End of 2017 Report
By
MOHI
on Jan 15, 2018 9:43:00 AM
DIRECTOR'S REPORT
Dear Friends,
We have just a few days to bid farewell to 2017! As we reflect on this year, we see that God's faithfulness and providence is evident. We also glorify God for such faithful friends and partners like you. This year, over 700 were able to bless our students, staff and community through short term trips!
Together, we have accomplished much for God's Kingdom in 2017 and we want to briefly share a few of these successes with you.
Educate: The Next Generation
MOHI educates nearly 15,000 children in urban and rural areas including communities in Mathare Valley, Machakos, Turkana, Bura and most recently, Marsabit. Although our goal is to sponsor every MOHI student, on average, 20% remain unsponsored. This year alone MOHI recruited over 1,700 new students into our program.
These students now receive spiritual guidance, quality education, medical care and two meals a day. For the total student population, that's over 5 million meals served in 2017!
At the end of this school year over 2,500 MOHI students graduated from kindergarten. Nearly 800 8th grade students completed their national exams for admission to high school and over 200 12th grade students completed their national exams for admission to a university. Additionally, over 100 previous MOHI high school graduates were accepted into local universities.
Due to our continued growth and the need to accommodate more students, many MOHI centers are currently under construction. These centers include Area 2, Bondeni, Kiamaiko, Kosovo, Mabatini, Madoya, Mathare North, Joska, Ndovoini, Napuu, Bura, Kargi and Olturot.
In our Korogocho schools, the government has formalized MOHI's land ownership. This is a milestone and our prayer is that construction of permanent buildings will begin in 2018. The construction at Madoya and Mathare North centers is ongoing and we hope to complete the work in 2018. At Kiamaiko, one of the new buildings almost ready and the other will be built in 2018.
At our Joska center, the second floor of the dormitory is under construction and after its completion in January, will hold 300 girls. Our Ndovoini center completed the dormitory and it currently holds 250 boys. Permanent classrooms are also under construction.
At our Napuu center in Turkana, the dormitory is partially occupied while construction continues. Additional classrooms have also been built and will be ready for occupation by January 2018.
We are thankful for all of our partners who financially support these centers for helping to create a better learning environment for our students!
Empower: Economically, Socially and Emotionally
Our Business Development Services (BDS) department had a fruitful year! Their client base increased over 60% and over $1,000,000 was distributed in loans. This means thousands of small business owners from the communities we serve can now support their families with a steady income.
Additionally, our skills training program continues to transform lives by teaching youth and adults marketable skills that help them obtain jobs and provide for their families. Our Kariobangi skills training center continues to grow and a second skills training facility will open at our Joska center early 2018.
At Kariobangi, skill courses include computer literacy, cosmetology, welding, carpentry, beadwork, sewing and knitting. This year alone over 1,000 people have graduated with certificates in the various courses. Most importantly, through daily devotionals our trainers share the gospel and 67 have committed their lives to Christ. Praise God!
Through a new and exciting partnership with Salix, a U.S.-based data entry company, over 40 MOHI high school graduates received computer operations training and 24 of them are now working for Salix. We are thankful to Salix for their partnership and the work they have done to empower our graduates and help break the cycle of poverty!
Agribusiness has been able to expand its impact from the students to their families and the community. By adhering to good agricultural practices that drastically reduce the need for chemical usage, we have been able to feed our students healthy fruits and vegetables.
Through agricultural clubs within our schools, students have been able to acquire skills in Farming God's Way. These skills are transferred from the students to their families and other local community members. This reduces the amount of poor harvests in their farms and, as a result, reduces local poverty. Through our new parent empowerment program, parents are offered job opportunities on the farm that help them pay for their children's school fees.
Restore: Healthy Bodies, Minds and Relationships
This year, we've treated thousands of patients through MOHI's clinics and medical camps.
Our healthcare facilities at Pangani, Joska, Ndovoini and Napuu have served more than 9,500 patients this year alone!
Additionally, short-term mission teams from several of our church partners helped us treat thousands more patients at different centers through medical camps in the remote areas of Turkana, Bura and Marsabit.
We praised God because individuals, who could not otherwise access quality medical care, benefited from your knowledge, skills, and generosity.
Redeem: Through the Gospel of Christ
This year, two Outreach Hope Churches (OHC), Kiamaiko and Ndovoini, were able to construct buildings.
This December, OHC held church leader ordinations. Most of these leaders have been mentored through the MOHI-OHC synergy!
Throughout the year, MOHI hosted several conferences to enhance the spiritual development of men, women, and youth. Hundreds of women from the communities we serve attended our annual women's conference which challenged them to serve God in all circumstances.
We also launched Ignite, a monthly youth conference, that allows the teens to go deeper into God's Word while also connecting them to each other and MOHI staff during a time of transition in their lives.
Our top attendance was more than 1,700. Keynote speakers and small group discussions focus on topics such as healthy relationships, sexuality, integrity, substance abuse, and pursuing healthy goals.
As we move ahead to a new year of exciting ministries at MOHI, we thank God for how far He has brought us over the past 17 years. We also thank you for your support and we look forward to partnering with you again in 2018 as God continues to transform lives through the hope of Christ in disadvantaged communities in Kenya and beyond.
We wish you and your families a very Merry Christmas and a Happy New Year!
Blessings,
Wallace and Mary Kamau
Founders and Directors, MOHI
Sign up to get updates sent directly to your inbox.