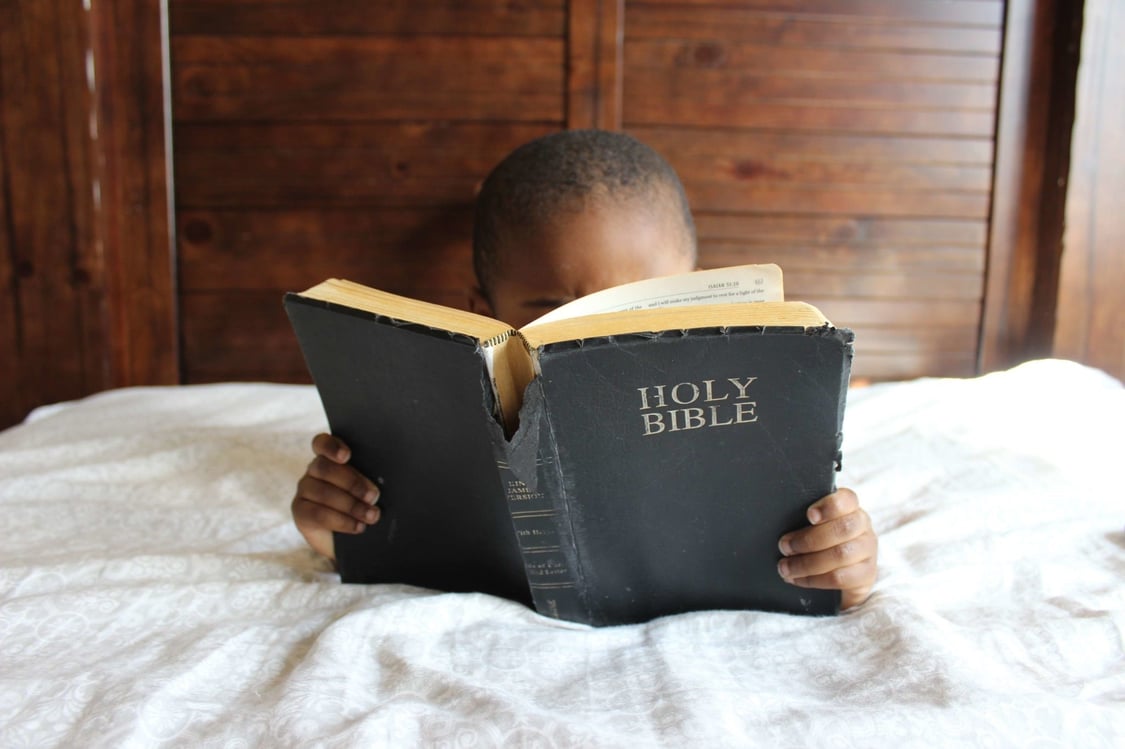 Devotions for Kids: Encouraging Your Children to Read the Bible
By
MOHI
on Sep 5, 2019 8:39:00 PM
As children grow up, most parents desire to teach their kids what it looks like to spend time reading their Bibles. While your children's relationship with God is fully dependent on grace and the work He does in their lives, how do you handle the responsibility as a parent to train your children in the Lord and give them the tools to learn how to read Scripture on their own?
Here are a few ideas to teach and encourage your kids to spend time in the Word of God.
Make it a part of everyday life.

"These commandments that I give you today are to be on your hearts. Impress them on your children. Talk about them when you sit at home and when you walk along the road, when you lie down and when you get up. Tie them as symbols on your hands and bind them on your foreheads. Write them on the doorframes of your houses and on your gates."
Deuteronomy 6:6-9
In these verses, as Moses was encouraging the Israelites to teach these truths to their children, he encouraged them to mention the commandments consistently: when they were at home, walking along the road, lying down, or getting up. This wasn't something they did once a day or once a week. These truths were to be a consistent part of their everyday lives.
Just as Christ came, not only to become a part of our lives, but to be our entire life, so the truths of the gospel should extend beyond a specific time of family devotions. How we live our lives is what trains our children to believe and know these truths.
Write verses on notecards and put them on the bathroom mirrors or refrigerator. Read a few verses and talk about them before bed. Listen to Bible verse songs as you drive to school. Demonstrate to your children that the Bible isn't a book you read and forget but a book that impacts every part of life.
Start simple.
While the responsibility of parenting is great, God's grace is even greater. If you're new to spending time reading God's Word together as a family, start simple.
At different seasons of life, devotions as a family or for your kids might vary. Sometimes it might be a more in-depth study together as a family. Other seasons it might be fifteen minutes after dinner. The most important thing is to start somewhere and model spending time in the Bible and devotions.
Make it interactive.
Engage your kids where they are. While there is value in simply reading the Bible as your kids listen, that's not the only way to engage with Scripture, especially during a time when it's challenging for your kids to sit still and pay attention.
Our God is creative, and he delights when his children draw near to him, no matter what that looks like. Imagine the scene when Jesus was teaching the five thousand in Matthew 14. It probably wasn't calm and quiet, with everyone sitting neatly, fully focused. It was most likely chaotic with children crying and parents distracted, trying to calm them and still listen to Jesus. And yet Jesus continued to teach and love the people where they were.
Teaching your children to love the Word of God means realizing there will be failures, challenges, and chaos—and engaging them in the midst of it. Use your resources to show the love of God to your children, rather than expecting perfection (of them or yourself).
Here are a few ideas to help Scripture come alive to your children:
Sing Verses.

Music stays with us and what better way to keep the Word of God in our hearts and minds of our kids? A few great resources are Hidden in My Heart and Songs for Saplings that put Scripture and other truths into song.

Worksheets and Coloring Pages

. Use different activities or creative worksheets to help your kids focus and learn from what you're studying. This can be as simple as giving your kids a blank sheet of paper and having them mark down every time they hear "Jesus" or "love" during devotions.

Act out Bible stories

. Engage your kids' imaginations and act out the stories of the Bible! Start with David and Goliath and make the story come alive! Plus, you'll be making great memories at the same time.
Teach them how to study.
An easy way to start is by reading a specific book of the Bible individually but discussing it together as a family. This helps you to teach your kids what it looks like to study the Bible on their own but still allows you to input truth into their lives during the discussion.
Start in one of the gospels or even Joshua or Esther. Assign a few verses to your family and have everyone read on their own and answer some questions. Then come together as a family and talk about your answers. Here's an example:
Scripture Reading: Esther 1
Questions to Answer:
What happened in the story?

Who were the main characters?

What did you learn?

What didn't you understand?
This allows you the opportunity to prepare your children to study on their own but supports them as they learn.
Model it for them.
Perhaps the most impactful way to teach your children to spend time in the Word is by doing it yourself. If your kids see you investing time doing your devotions, studying the Bible, and allowing it to color everything in your life, that will display the impact that this book has on your life—and ultimately can have on theirs.
Resources + Devotions for Kids
The beauty is that there are several resources and books designed to make it easier for you to encourage your kids to spend time reading the Bible. Here are a few:
There are also numerous online resources you can use, from coloring pages and worksheets to family devotions and lessons.
The Ultimate Resource: The Bible
While there are great resources and gospel-centered books full of Bible stories, nothing compares to the power of the Word of God itself. These resources should be seen as stepping stones that encourage your kids to spend time reading, studying, and learning from Scripture.
Take advantage of kid-friendly reading plans that guide your kids through small sections of Scripture and make it fun to follow along and reach a goal, whether as individuals or as a family.
Isaiah 40:8 says, "The grass withers, the flower fades, but the word of our God will stand forever."
............................
The greatest legacy you can leave for your children is to give them a love for the Word of God. Taking simple steps to encourage your family to spend time in Scripture and modeling it for them will have an eternal impact.
What have you done as a family to make the Bible come alive for your kids? Share your ideas in the comments below!
Sign up to get updates sent directly to your inbox.