By Judy Makori; Senior Writer MOHI on Aug 20, 2020 2:07:54 PM
Evaline Akinyi is a parent at Missions of Hope International (MOHI) Gitathuru center. The mother of two has both her boys at the school in class two and five respectively.
Evaline has been the primary provider for her family since 2012 after her husband was diagnosed with epilepsy. He was working as a welder at the time but had to be laid off because of his medical condition. It was also in this year that Evaline discovered that she and her husband were both HIV positive.
"I decided to be strong so I could continue taking care of my family and I started going into people's homes to offer laundry services. I did this until 2018 when I started suffering from severe chest pains which made it difficult for me to do strenuous jobs or work with cold water. I eventually had to stop working all together and for a while relied on well-wishers".
It was around this time that MOHI stepped in to work closely with this family. Millicent Wambui, the social worker connected to this family, tells me she noticed that Evaline's health was deteriorating rapidly and she became concerned.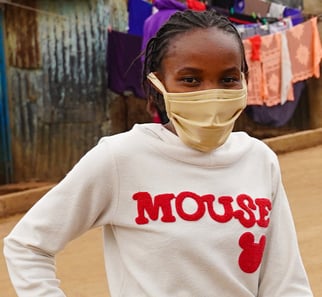 "We realized that Evaline needed a lot of emotional support because she had no one to share her burdens with. It seemed like she was going into some kind of depression and she was no longer taking her medication as prescribed," Millicent says.
"I started making frequent visits to the home where I would encourage her to keep taking her medication. Together with a CHE trainer we also advised her on the best nutrition to keep her immunity up as well as how best to protect her chest while at work."
To further support her, Millicent tells me they prioritized Evaline's family during every food basket distribution process.
Being on ARVs means a person cannot go without food for long periods of time; a fact that Evaline collaborates.
"Without food in my system, taking the ARVs is not good for me, yet if I do not take them, I will die," she says. "The medication we take is very strong, we take it twice a day and it needs one to have had a heavy meal in advance. When I take the medicine without food I feel dizzy, sometimes I faint other times I vomit. I really thank God for the food we received from MOHI. It has been a timely blessing for my entire family."
According to Millicent, Evaline has been doing much better since they started monitoring her and following her up closely. However, Millicent says she recently noted that Evaline is struggling more and more with opportunistic infections and her chest is troubling her due to the current cold season. She has however, taken steps to remedy this.
"Together with the headteacher, we have initiated the requisite process to make it possible for Evaline to receive free medical care at the MOHI Pangani clinic. This is something we have done for other parents who we have identified as being in need of healthcare yet cannot afford it. Once I have the go-ahead, I will personally take Evaline to the clinic," Millicent says.
In the meantime, Millicent and her team continue to visit Evaline to pray with her, encourage her, offer her counseling and ensure she keeps on taking care of her health. Evaline's husband has not been as accommodating but Millicent and her team have not given up on him. By the grace of God, she says they will keep trying to also restore his health.