By Judy Makori; Senior Writer MOHI on May 8, 2020 8:00:00 AM
On September 14th 2018, we highlighted the story of Jennifer Aoko, a mother of four and a widow. She adopted her nephew and niece after their mother passed away and their father was sentenced to life in prison.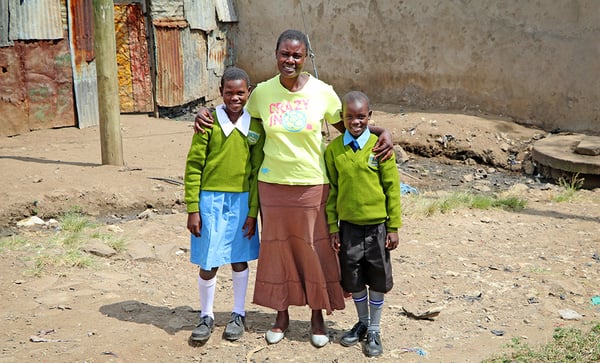 What makes Jennifer's story particularly endearing is that at the time of making the said adoption, she did not have a regular job. She earned a living by fetching water at construction sites where she would earn less than a dollar everyday. It was hard enough to provide for her four children without bringing on an additional two mouths to feed.
But, Jennifer said the plight of these two young children was one she could not ignore. They were not receiving the right care at the hands of their elderly grandparents, they rarely attended school and there wasn't much hope for them. So she brought them to live with her in Nairobi and enrolled them at the Missions of Hope International (MOHI) Kariobangi center.
We reconnected with Jennifer to find out how her family has been fairing and this is what she had to say:
…………………..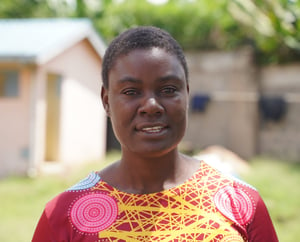 We have had some difficult days.
When I made the decision to have Tarzan and Jennifer come live with me, I knew the magnitude of the commitment I was making. So even when it got really tough, even when we did not have anything to eat, I was determined to keep the promise I made to the children and to God. I never wavered in my resolve, I just kept my eyes on God.
Whenever I would get discouraged, my children remained my greatest source of comfort. Jennifer, and Tarzan especially, would tell me that they would rather stay with me facing all these challenges than go back to their previous situation. They would remind me that I am their mom; their love gave me a lot of courage.
During those times, I would pray to God and ask Him to help us. And He did answer my prayer in the most miraculous way. Last year in May, I was called for an interview at MOHI's Kariobangi center. I came to learn that we were three parents who would be interviewed for the position of a cleaner at the center. I was the least qualified of all of them and so I did not expect to be picked. You can imagine my joy when I was told that I had been selected.
Getting this job at MOHI turned our life around. At the time, I had a seven month house rent debt. One of the first things I did was get into a payment plan with my landlord to enable me to settle this amount. I thank God because I have been able to pay it all off and I no longer struggle to pay my rent.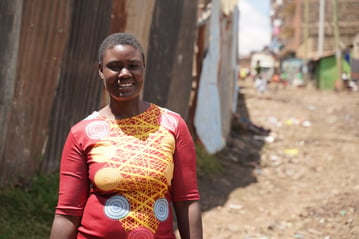 Taking care of my children's needs is now no longer a challenge. I am especially grateful that my three children who are in MOHI have had this chance to benefit from the quality education offered.
When Jennifer and Tarzan joined the school, they were very far back in their studies. Their teachers worked very hard to ensure they caught up and now Tarzan is in grade two and Jennifer is in grade three. They love their new school and there is a marked difference in their academics.
When I look back, I marvel at God's faithfulness and how far He has brought us. I see the hand of God in my life and I can testify that truly it is He who takes care of the widow and the fatherless. My faith has really been strengthened.
Even now, as those in my community struggle to feed their children due to the Coronavirus pandemic, I have been spared from that pain. God continues to use MOHI to provide for my family and I am thankful.
…………………..
During this difficult time that many are facing loss of earnings as a result of the Coronavirus, MOHI has taken the step to give food baskets to parents across all our centers. Jennifer is among the staff at Kariobangi center who we have worked with to help distribute these food baskets.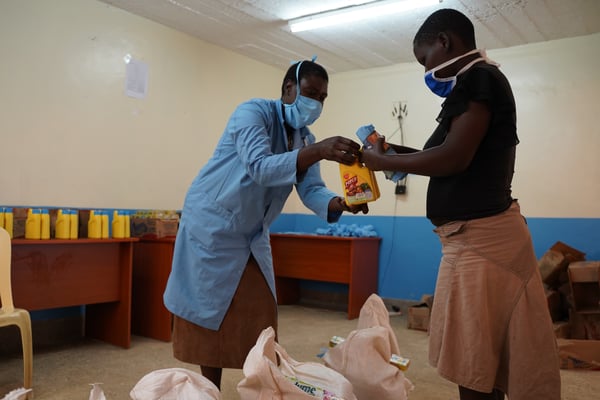 It is a clear picture of the transformation that she has experienced; that while once she was among those in need of help, today she is among those providing solutions and offering a helping hand. We really thank God for the transformation witnessed in Jennifer's life.
It is your giving that makes it possible for us to help many like Jennifer who would otherwise have no way of taking care of their families. Please partner with us in the work God has called us to do among children and families living in disadvantaged communities to transform their lives through hope in Christ.