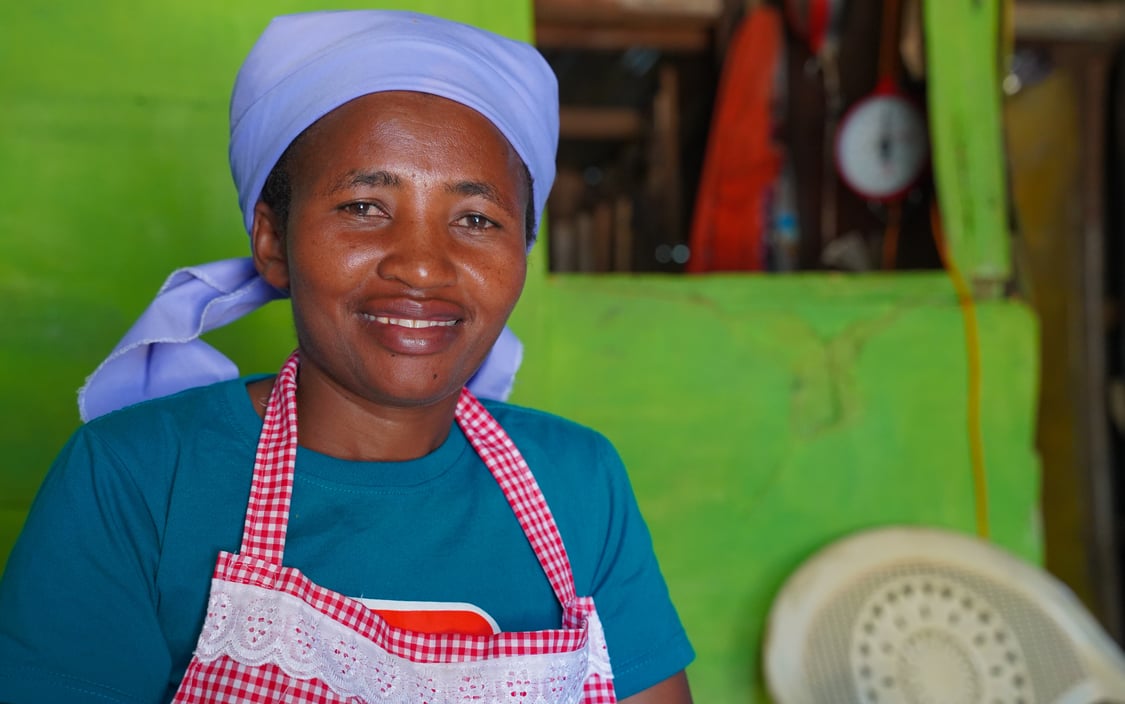 Of Peas and Changed Fortunes
By
MOHI
on Sep 12, 2022 4:55:00 PM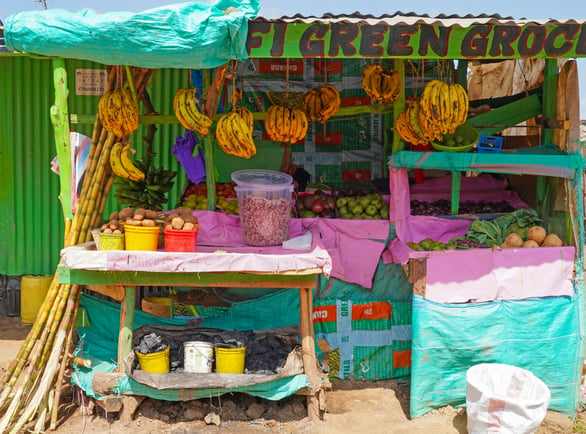 At the heart of Molo town, near an area the locals refer to as 'Keep Left', Veronica Njeri has set up a small grocery stall.
Do not however let this humble stall fool you, for behind it is a storage room where she keeps thousands of pounds of green peas. And from this nondescript structure, this slight, unassuming lady has established herself as a force to reckon with when it comes to Molo's pea business.
"Right now the pea season is low," Veronica says as we look at her now empty storage area. "The peak period for peas starts in July and winds down in May. At the height of this season, I move upwards of five tons (about 11,000 pounds) of peas every day."
Seeing the surprised look on my face, Veronica informs us that the demand for peas is huge in Kenya! She says while there are many other business people doing the peas business within Molo town, she is among those who move the largest quantities because she has a standing order from a client in Nairobi.
So how did it all start? "Quite by accident," Veronica says. "I stumbled onto this business during one of the darkest periods of my life. I did not know, at the time, that God would use it to change my life and that of my children."
Veronica was born in Molo as the fourth born in a family of 11 children. Sadly, her family was forced to flee the area in 1992 after ethnic conflict erupted. The clashes affected the then wider Rift Valley region and about 5,000 people died while 75,000 others were displaced. Molo was the epicenter of the violence.
Veronica's family relocated to a nearby town called Njoro, (approximately 18 miles from Molo) and they settled there. Sadly when the country went into the 1997 general elections, tribal tensions led to renewed conflict and once again Veronica's family was affected. They chose to leave the area completely and they moved back to their ancestral home in Ol Kalou which is about 60 miles from Molo.
As the years went by, some of Veronica's extended family moved back to Molo, but she opted to stay in Ol Kalou. She got married and went on to have four children. Her marriage, however, broke and in 2016 she left the area and moved to Narok, even further away, to seek refuge at her sister's house.
"When I moved to my sister's house, I did not have much hope for my future," Veronica says. "I did not go beyond grade three in my education so I knew finding a job would be impossible. I, however, thank God because entrepreneurship flows in my veins; I inherited this trait from my mother and it feels like it is in my blood. I was, therefore, determined to establish and grow my own business." she says.
Without a coin to her name, Veronica started doing small casual jobs so that she could have some money to save and also contribute to the care of her children. She would clean people's homes and clothes and she eventually started taking on farmwork. It was while working on these farms that Veronica came face-to-face with what was to be her way out of financial difficulties.
"I had no idea that peas grow in Narok," Veronica says. "Having grown up in Molo, I knew that Molo is like the capital city of peas in Kenya. Anyone who wants peas will typically make their way to Molo. Yet here I was finding the same plant and farmers who did not have a market to sell their produce. I immediately saw a business opportunity in this. I decided to collect peas in Narok and then sell them in Molo."
Having family back in Molo further strengthened Veronica's resolve to do this. From her earnings and with support from her sister, she was able to gather about 100kgs of peas (about 220 pounds). It was in 2019 when she made her first trip and she has never looked back.
Business was good and she soon made a name for herself as a reliable peas vendor who could also be trusted with a client's cash. By God's grace, Veronica captured the attention of a major peas buyer (based in Nairobi) and she chose to partner with Veronica. This prompted her to wrap up her affairs in Narok and move to Molo. This was in 2020.
2020 was also the year that MOHI opened up the Coram Deo center in Molo. This is how Veronica got to know about MOHI after her youngest child was recruited and joined as a kindergarten student - he is now in grade one.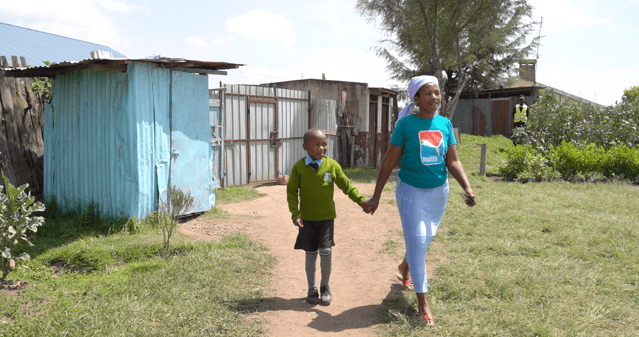 As a MOHI parent, Veronica got to learn about the microfinance department during one of the teachers-parents meetings.
"I was at a place where my business was growing very fast but I did not have the capital to expand my operations," Veronica says. "When I learned that I could save and be eligible to take a loan, it felt like a dream come true. I immediately registered and started saving. After two months, I was eligible to take a loan and I borrowed Sh30,000 (approximately $255)."
Veronica used the money to get the stall she now operates from and paid two months' rent in advance. She also used the money to put down a deposit for a much larger quantity of peas than what she had been taking and to pay for transport of that load. Veronica says the returns from this load catapulted her profit margins and set her on a totally different path.
"Before I got the loan from MOHI, I was only able to source for peas in the hundreds of pounds," Veronica says. "Having this extra cash made it possible for me to invest greatly and I started bringing in over one ton of peas (about two thousand pounds)," she says.
With this growth in business, Veronica says she was able to continue saving and also repay her loan within the stipulated six months. She then went ahead and applied for a second loan and qualified for Sh65,000 (approximately $550).
Veronica says she used this money to expand her stall so she can accommodate a larger amount of produce. She also started stocking the specialist packaging material used to preserve the peas when they are being transported to Nairobi. She has been selling these to her fellow pea vendors and it has been a viable source of income.
When she is in the middle of the peas low season, Veronica has opened a grocery stall which is tiding her through the lean months.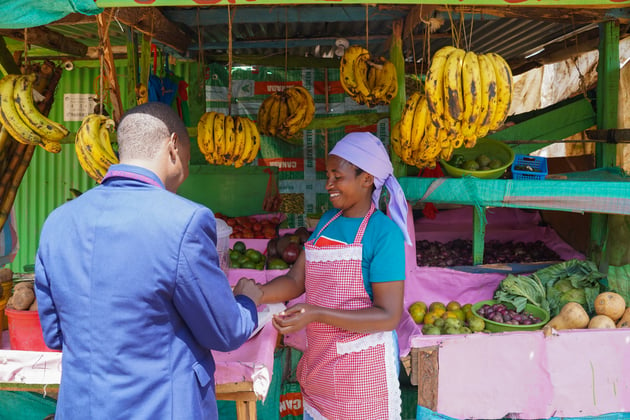 She says she made this decision following the financial advice she received from MOHI on the need to diversify her business. She intends to keep the stall operational since it has been well received and has regular customers.
With the growth of her business, Veronica is now an employer. She has a young lady who helps her man the grocery stall. For her peas business, she has three young men who pack and load and one man who scours the pea farms in Molo and Narok looking for the best crop yield and at a good price.
"MOHI came into my business at just the right time," Veronica says. "The support they have given me in terms of the loans and the financial advice has made me the businesswoman I am today. I am now a person able to stand on my own two feet and make decisions independently. Through the support of their dedicated staff, MOHI has made me prosper and I in turn pray for MOHI's prosperity."
-------------------------------------------------------------------------
Economic empowerment is one of MOHI's key pillars and the micro-finance team works tirelessly to empower individuals and groups so they can rise above financial distress. Pray for us and partner with us as we endeavor to put an end to generational poverty and bring lasting economic transformation.
Sign up to get updates sent directly to your inbox.