By MOHI on May 30, 2017 6:52:24 AM
We recently launched a new job skills training program at our Joska center outside Nairobi! The program will train community members and Joska students in beauty and hairdressing and fashion and design. We aspire to expand the program to include other skills, like knitting, beadwork (jewelry-making), and welding, based on interest from participants and as funding becomes available.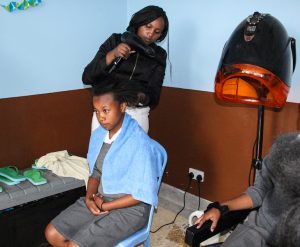 The current class of trainees includes 20 participants in fashion and design and 12 participants in beauty and hairdressing. Graduates of the program will be equipped with marketable skills to secure steady employment and better support their families, including paying school fees for their children. Additionally, learning new skills boosts their self-confidence, feeling valued in their families and community, and hope for the future.
Along with parents and other community members, current Joska students can participate in the program as part of their educational curriculum. They can learn skills to help them in the workforce after graduating from high school if they cannot pursue a higher education.
The Joska program is part of MOHI's general economic empowerment program. Our goal is to break the cycle of generational poverty by empowering and equipping people in disadvantaged communities through job skills training and microfinance (small) loans for aspiring business owners. In addition to the Joska program, we provide skills training at our Kariobangi center within the slums of Nairobi and our Napuu center in rural Turkana.