By MOHI on May 27, 2015 1:52:47 AM
On Saturday, Missions of Hope International (MOHI) hosted a women's conference at our main Pangani center. Hundreds of women from throughout Mathare Valley and Joska (northeast of Nairobi) attended the event. The conference was organized, hosted, and facilitated by MOHI staff and pastors' wives from different MOHI Outreach Hope Churches throughout Mathare.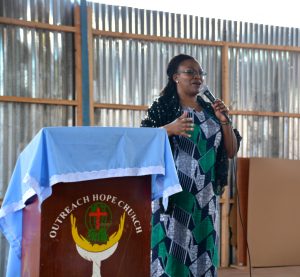 Mary Kamau, Executive Director of MOHI, introduced the various speakers at the conference and provided much encouragement to the women through her own remarks to the attendees.
In the morning's opening session, the speaker challenged the women to "make no excuses" in serving God wherever they find themselves. The women were exhorted to not run after things that are perishable, but to live in the imperishable by representing Christ to others.
"You are prophets of God," the speaker said, quoting Jeremiah 1:5. "You listen to the voice of God and transform the future of others by speaking out His Word to them." The women were encouraged that even when God assigns us a demanding task, His call on our lives as His children will keep us pressing on, not in our own strength but through God's promises to us in His Word.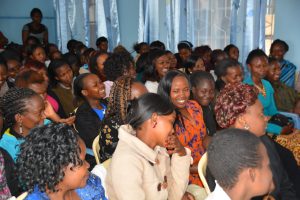 Following the opening session, the women dispersed into different break-out groups to receive advice and share encouragement with other women in similar life circumstances—married women, singles, single mothers, and widows.
In the afternoon, the women came back together to listen to different presentations and speeches prepared and led by women of the Outreach Hope Churches represented at the conference. There was much singing, dancing, and praising God!
Regarding the conference, one of the attendees from Mathare commented, "It was so good, and I urge those who organized it to organize another one like that!"