By MOHI on Feb 18, 2022 6:11:03 AM
Dear Friends,
Greetings from Kenya! We trust that you are doing well in the Lord. What a privilege it is to see another year come to a close and as we reflect on all the activities that have taken place this year, we see God's favor, faithfulness and providence.
Indeed we have accomplished much for God's Kingdom in 2021 and we want to briefly share a few of these successes with you.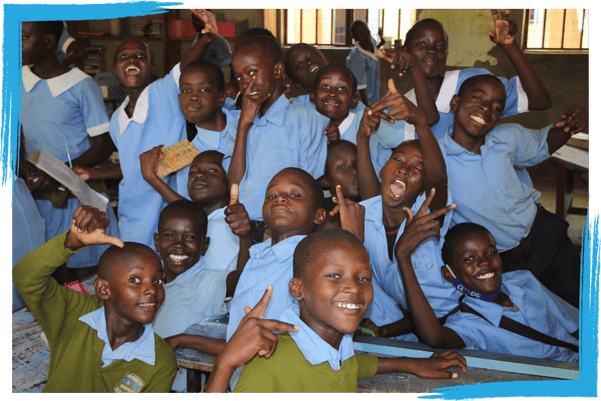 Our learners from Napuu
Our mandate to offer high-quality education backed by Christian values remains a major focus for us. MOHI now educates 22,141 children drawn from urban and rural areas throughout Kenya. These students receive spiritual guidance, quality education, medical care and two meals each school day.
To do this effectively, MOHI partners with like-minded individuals who come on board to offer sponsorship. Currently, 13,685 students have received sponsorship - with 1,958 receiving this sponsorship this year. At least 8,456 students (7,829 in primary school and 627 in high school) are yet to be sponsored and it is our prayer that they will receive sponsorship in 2022.
This year, our kindergarten section had 2,128 new recruits while we received 1,075 new students who joined our existing classes across our various grades.
At the end of the school year over 1,651 MOHI students graduated from kindergarten and transited to grade one. We had 1,273 grade eight students who sat for the national primary school exit exam. Out of these 1,224 students (595 girls, 629 boys) transited to high school while 49 did not, thus giving us a 96% transition rate.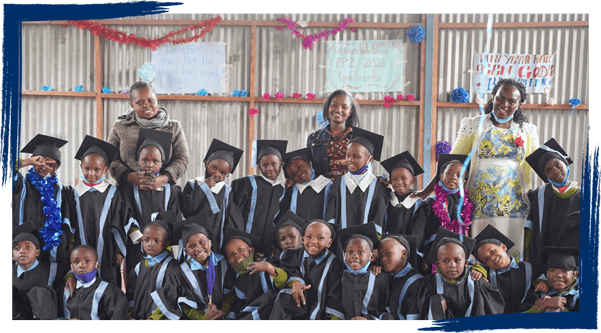 Kindergarten graduates from Pangani center
We had 498 grade 12 students (259 girls, 239 boys) who completed their national exams. Out of these 79 students joined university while 70 students joined institutions for higher learning. This gives us a transition rate of 30%.
We are pleased to report that our Morokani center has been registered as a government-accredited examination center. This means we can now administer the national primary school exit exams to our grade eight learners.
There has also been good implementation of the new Competency-Based Curriculum across all our centers. Teachers have been trained on how to teach this new curriculum while grade three, four and five national exams have been successfully administered.
We also successfully launched four new schools:
In July, learning started at the Kibarani center in Kilifi. The school currently has 396 students from kindergarten to grade four.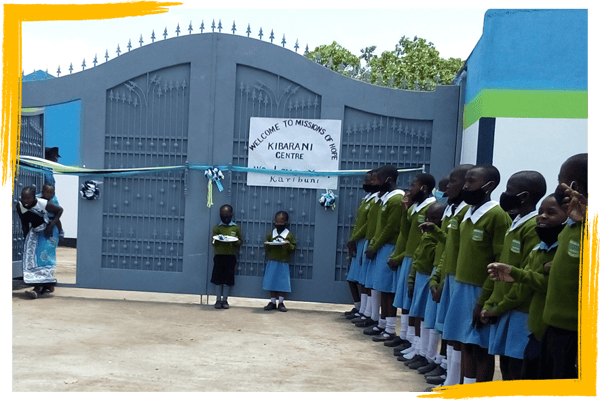 MOHI's Kibarani center
Our school in Mitangoni - also in Kilifi - started receiving learners in July. It currently has 170 students from kindergarten to grade four.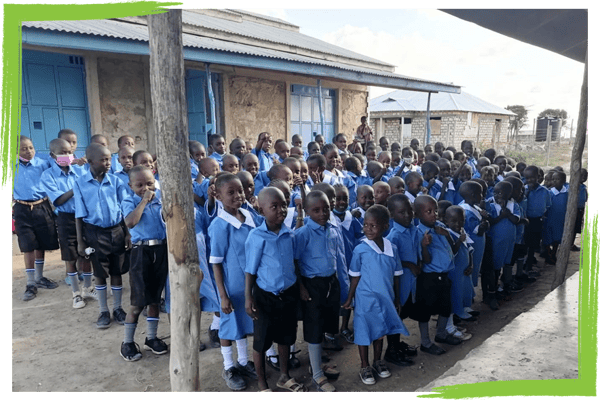 Students at the Mitangoni center
In the same month, we opened up another school in Kilifi. Our Kiwandani school currently has 232 students from kindergarten to grade four.
We have once again made inroads into Turkana with the establishment of a school at Locheredome. The school has been running since July and we currently have 192 students in kindergarten to grade three.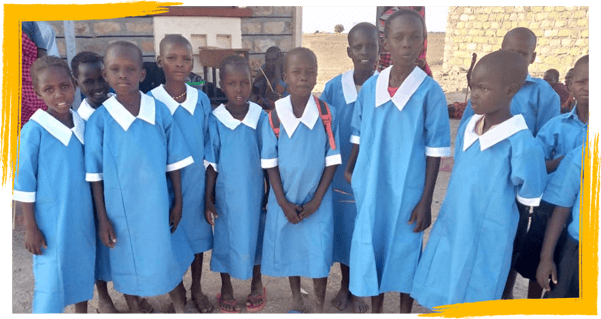 Students at the Locheredome center
We continue to work on our schools' infrastructure to improve it and also to create room for the growing number of students. As such, we have several completed construction projects and others that are still ongoing.
Of the completed projects are two additional classrooms built at Korogocho Nyayo and eight new classrooms and toilets that have been put up at Korogocho Grogan. Our Gitathuru center now has three complete floors which have already been occupied by students and staff. At the Kibarani center, eight classrooms, the kitchen, toilets and the administration block are now fully in use while Ndovoini's grade nine students now have three new classrooms.
Construction at Ndovoini center
Some of the ongoing projects include the new building at Mabatini which is set for completion by May 2022. The roof terrace at Gitathuru center still needs some work while Kibarani center is looking forward to having the chapel completed. There is also the construction of the high school tuition block and additional three classrooms for the primary section at Ndovoini while Morokani and Olturot are set to benefit from additional tuition blocks.
Our Business Development Services department continues to grow and this year, we had 1,201 new clients come on board. This brings the total number of clients we have to 8,479 and our current portfolio sits at about $1.85m.
We have distributed approximately $1.4m in loans aimed at helping thousands of small business owners and with an 87% payback rate, our community members are now on the path to breaking the cycle of poverty.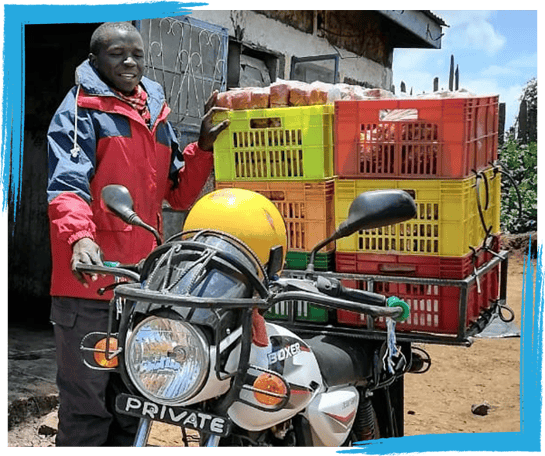 Bernard got a loan to fund his pastry business
We are also pleased to report that we opened a new marketing office in Kilifi on 22nd November. We are going out into the community to inform people about the services we offer. Our focus is to register many new clients and we are targeting small and medium business owners who typically would not get credit facilities from traditional banks. We are excited to see how the Lord will use us to bring economic empowerment to this region.
Additionally, our skills training program continues to transform lives by teaching marketable skills to youth and adults.
At the MOHI Technical Training Institute (MTTI), we currently have a total of 459 students spread out across MOHI's Kariobangi, Pangani, Joska and Napuu centers. The breakdown is as follows:
Early Childhood Development and Education (ECDE)
29 students in Kariobangi
Teaching/Education
2 students in Kariobangi
Hairdressing and beauty
129 students (92 in Kariobangi, 15 in Pangani and 20 in Joska)
Fashion and design
58 students (42 in Kariobangi, 16 in Napuu and 3 in Joska)
Plumbing
47 students in Kariobangi
Mechanics
14 students in Kariobangi
Electrical
33 students in Kariobangi
Catering
101 students in Kariobangi
Computer applications
37 students in Kariobangi
Social and community studies
9 students in Kariobangi
Welding
Deferred to the 2022 academic year starting March 2022. Recruitment is currently ongoing.
Looking ahead into the coming year, we intend to introduce two new courses to be taught at the Pangani Campus: The Certified Public Accountant (CPA) course and Transformational Church Leadership / Theology (Diploma and certificate). We have also carried out trips to Kilifi as we look at the possibility of starting a center there.
We are pleased to inform you that MTTI is now fully registered with the Technical and Vocational Education and Training Authority (TVETA). This is a government body that lays out stringent requirements in allowing colleges to offer vocational and occupational education and training. With this certification, our students will be very marketable once they finish their studies.
We have also received full accreditation from The Kenya National Examinations Council (KNEC) which is the national body responsible for overseeing national examinations in Kenya. This means that we are now a recognized national examination center and already we have 19 Early Childhood and Development Education (ECDE) students who have completed their national exams.

In 2021, we treated 24,416 patients through MOHI's clinics. Of these 11,076 were treated at Pangani, 5,141 at Joska, 3,794 at Ndovoini and 4,405 at Napuu.
We held 12 medical camps in five of our centers - Bura, Kargi, Namarei, Lodwar and Baba Dogo. These camps targeted children with orthopedic disabilities and they were done in collaboration with Mission Aviation Fellowship (MAF) and Kijabe Cure. In total, 300 children with various orthopedic challenges were attended to and of these, 31 children underwent corrective surgeries; others were issued with wheelchairs, and other assistive devices/orthotics.
We were pleased to host a team of doctors from the US who offered a five-day medical camp to MOHI staff. The camp held at the Pangani center catered to 732 staff members and their spouses.
The services offered include:
Dentistry - Fillings, extractions, cleanings
Optical - Corrective spectacles for visual impairments (near and far)
Gynecology - Reproductive health, ultrasound, pap smear, cervical cancer screening and treatment
Cardiology - High blood pressure, heart condition and functions
Dermatology - Skin conditions
H. Pylori/Abdominal issues
Diabetes
Physical therapy (i.e. orthopedic injuries)
Wound care
Doctors who participated in the staff medical camp
The same team also conducted screening on 767 kindergarten students from Kariobangi, Kiamaiko, Mathare North, Bondeni and Joska centers. The children were screened for conditions ranging from stunted growth (due to chronic malnutrition in early childhood), respiratory infections, skin infections, acute malnutrition, anemia, abdominal-related issues (intestinal worms, diarrhea/amoeba) and dental cavities.
Our Child Survival team assessed 5,552 preschool and kindergarten students to identify malnutrition levels. We had 45 cases of severe acute malnutrition in Turkana county and 260 were identified with moderate acute malnutrition.
We also had 488 one-on-one counseling sessions with caregivers to train them on proper nutrition while 113 preschool and kindergarten teachers were trained on nutrition concepts of growth monitoring and management of malnutrition.
Kindergarten teachers trained on identifying malnutrition
We also held reproductive health training with 2,900 adolescents, conducted 109 holistic home visits to follow up on expectant and nursing mums, gave 95 health classes and made 83 referrals for maternal health and sick children.
To shore up our clinics' service provision, we bought and installed a Biochemistry machine at the Pangani clinic laboratory.
We also set up a new clinic at the Angaza Camp while creating more clinical space at Pangani. We also trained our staff on the current guidelines on the Management of HIV/AIDs as well as on the management of Hypertension in Paediatrics.
We are happy to report that our outreach to community clients increased by about 30% this year. We are so grateful to God for the work He is doing in the communities we serve through the health team.

The core of everything we do hinges around giving hope to the communities we serve by sharing the love of Christ with them and modeling it in practical ways. All our spiritual programs are therefore geared at presenting the true Gospel of Christ so that everyone who hears will receive Him as Lord and Saviour of their lives.
Our major highlight this year is the successful launch of the Angaza Camp in Kilifi!
By the time we closed doors in December, the camp had played host to 493 grade six students (248 boys and 245 girls). To make this possible, we started the year by vetting, appointing and training 40 peer mentors (20 men and 20 women). We also held Angaza Camp awareness sessions with the parents and teachers.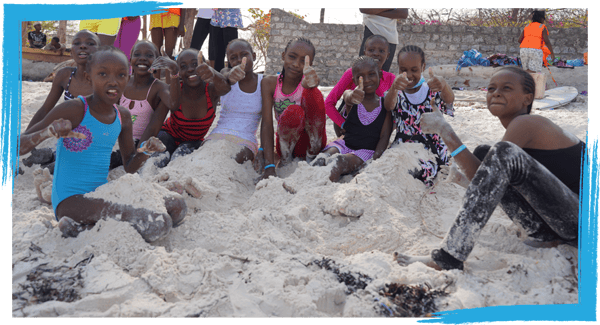 Our students having fun at Angaza Camp
Within Angaza's three months of operations, we thank God because we have had 185 boys and girls make a decision for Christ. Six of our mentors, who had not been baptized - received baptism by immersion in the Indian Ocean.
In September, we had 46 learners from the Ndovoini center make a decision for Christ and they were baptized.
We also had three students from MOHI's Technical Training Institute be baptized. This has been an outpouring of our focus to boost all our learner's spiritual growth by encouraging daily class devotions, having new believer's discipleship classes and weekly church services across all our boarding schools.
Our staff has also not been left behind and our focus has been: Encouraging small Bible study groups for daily staff devotions, training of chaplains, holding combined staff prayers, issuing Christian literature, encouraging and exposing staff to sing edifying songs centered on Christ and offering psychosocial support
CHURCH PLANTING
We established four churches this year - three in Kilifi and one in Turkana - as follows:
June 2021 - Trinity Chapel Kibarani in Kilifi
August 2021 - Trinity Chapel Lodwar
August 2021 - Outreach Hope Church Chumani in Kilifi (serving the community that resides near the Angaza camp)
September 2021 - Trinity Chapel Mitangoni in Kilifi
The pastors who serve in these churches have been forwarded to us by our partner churches - Nairobi Chapel and Outreach Hope Church.
In May, MOHI adopted Trinity Chapel in Narok. This church has been in existence for a while now and our role is to support it financially, in discipleship programs and in capacity building.
Our prayer focus moving forward to the new year is that God will give us pastors who will be in charge of our Kiwandani and Area 2 centers. While there is a church that meets at the Angaza camp, our desire is that we will establish a church out in the community where we can better meet their needs.

We were blessed to receive 157 visitors who were part of 26 teams that visited our centers this year. Out of these, two of the teams came for a vision trip while another comprised 14 interns who served across our Nairobi and Joska centers.
These visitors partnered with us to offer teacher training as well as healthy home lessons; they held VBS sessions with students, spent time with staff and students in fun day activities as well as conducting home visits where they did evangelism and distributed food baskets. They toured our new centers in Kilifi and the Angaza Camp where some of them planted trees. We were also blessed to have our visitors attend chapel with our students and minister during these sessions.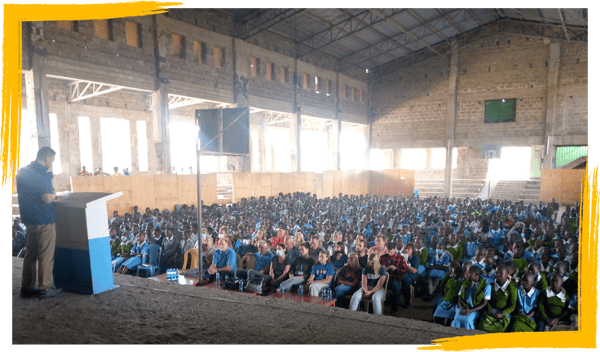 A team from Rocky Mountain Chrisitan Church at the Joska chapel
Our sports ministry was especially blessed to have a team visit from individuals who are committed to building play facilities for MOHI students. The special needs department also received a boost following training offered to Early Childhood and Development Education teachers and social workers on how to handle/interact with children with special needs.
We are truly blessed to have faithful friends and partners and we look forward to even more fruitful interactions in the coming year.
Wallace and Mary were also able to share how God is working through MOHI at several different speaking engagements, in Kenya and the US. We are happy and excited to share with others the MOHI model - which is centered around holistic ministry.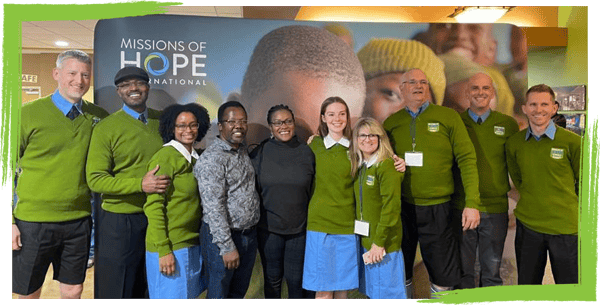 Wallace and Mary at Summit Christian Church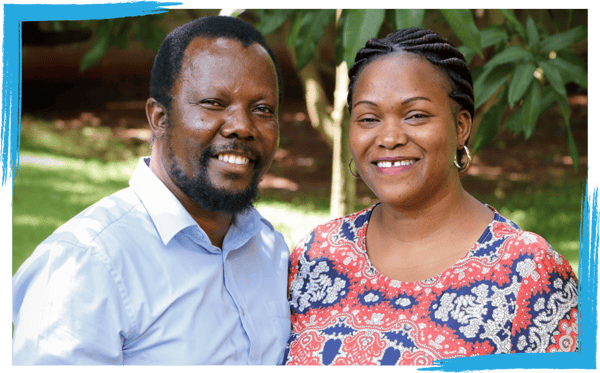 Wallace and Mary Kamau, Founders and Directors
We continue to live in unprecedented times but we thank God that movement in 2021 was not as limited as it was in 2020. As a result, this year we were able to put measures in place that will see us move closer to our God-sized goal to reach 100,000 students, build 100 schools, and plant 100 churches by the year 2030.
We know we cannot accomplish this on our own and we look forward to continuing working together in this coming year.
Transforming lives through the hope of Christ in disadvantaged communities in Kenya and beyond continues to be our ministry's call and what a privilege that God has chosen to use us in this way at such a time like this.
We give all glory to His name.

Blessings,
Wallace and Mary Kamau
Founders and Directors